Welcome to the New SBCA Website
Learn more about what the new website has to offer!
The Structural Building Components Association (SBCA) has a new online home at sbcacomponents.com! Its new website offers several benefits to association members and non-members alike. Most importantly, it makes accessing all of SBCA's tools, resources, information and events faster and easier.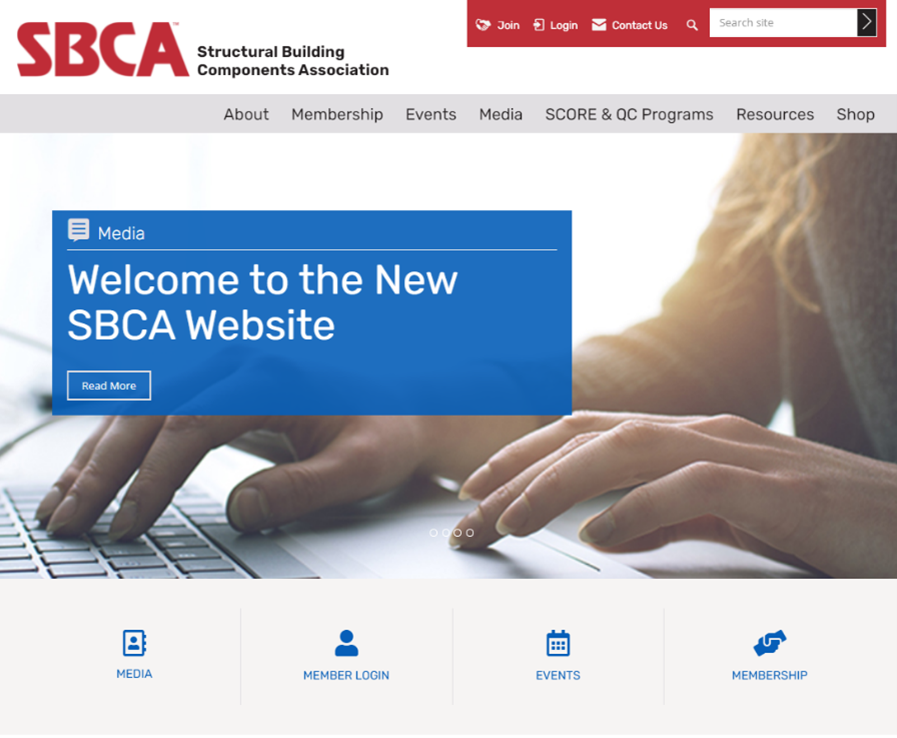 Association Management
SBCA has transitioned to a new association management software (AMS) called Novi, allowing SBCA to move data and functionality that has traditionally been spread over several websites into one location. This consolidation means everything will be easier to find and downloading or purchasing a product or service is more straightforward. Members will also have a vastly improved ability to manage their association profile on the new website.
Member Compass
When members login to SBCA's new website, they will have access to a personalized Member Compass page. On this page, members can view and edit their profile and see the most pertinent information, including upcoming events they have registered for, the latest SBC Industry News headlines, magazines, podcasts, and webinars put out by SBCA.
Members can also see their most recent transaction history, set up online payment with a credit card, and pay any outstanding invoices. All of this is made possible by the fact that the new website interacts directly with SBCA's accounting software, QuickBooks Online.
Create a Password and Go!
If you've ever used SBCA's old website, you should have an account already set up in the Novi database. When you login to the new website for the first time, you will be walked through the process of setting up a new password. You will then have an opportunity to review your profile and add a photo. The Novi interface gives members more control over their information and ability to transact business with the association without a lot of paperwork or hassle.
Allowing the Association to Work Smarter
Of course, if you ever need assistance, SBCA staff is always just a phone call or email away. But by removing bureaucratic steps to creating, managing and maintaining member data and purchasing activities, a lot of time will be freed up to provide value to members in other ways. Take a moment and check out SBCA's new website, create your new password, review your member profile and check out all that SBCA has to offer!