Established in 1983, the Structural Building Components Association (SBCA) is the only international trade association representing manufacturers of structural building components. SBCA is the information conduit for our membership to stay abreast of leading-edge marketplace issues.

Our annual tradeshow is the perfect time to learn about the latest ideas, products and trends throughout the component manufacturing industry. 
Become a Member
The great part of SBCA is members are willing to share their wins and their mistakes with other members who they have built lasting relationships with.  You can gain invaluable information through these types of relationships when you can learn and apply it to your business.
Membership Benefits
SBCA Magazine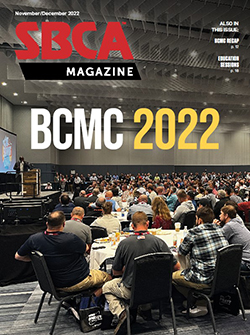 This issue celebrates all that happened at BCMC 2022! It also explores the many ideas and best practices shared by industry experts and veterans during educational sessions.
Read More
Looking to get involved?
Apply to join a committee you are passionate about.
Sign up now for Digital QC
Digital QC is available FREE to all SBCA Members.