Financial Management Concepts Training Now Available
Date posted
February 28, 2023
Originally Published by: SBCA Magazine — February 28, 2023
SBCA appreciates your input; please email us if you have any comments or corrections to this article.
Grab a pen and paper and get ready to take notes, because SBCA's Financial Management Concepts Training program is about to take your business finances to the next level! This brand-new educational program explores key performance indicators, the importance of value-added manufacturing, and operating in environments based on commodity inputs.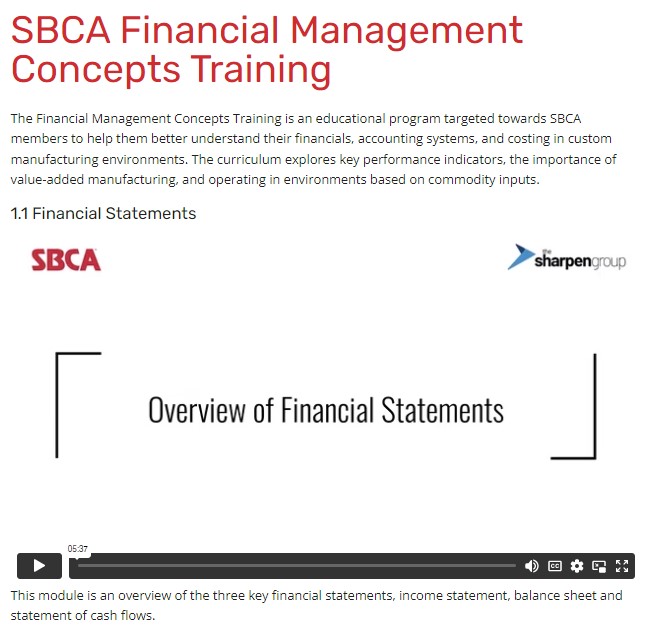 Available FREE to all SBCA Members, the Financial Management Concepts Training program is great for everyone involved in your operation's finances. Whether you're new to accounting, or you've got a bachelor's degree in finance, this program has a wealth of information you DON'T want to miss out on.  
SBCA partnered with The Sharpen Group to create this program to help you and your team better understand your financials, accounting systems, and costing in your custom manufacturing environment. The Financial Management Concepts Training Course is comprised of four sections that include: 
Maximizing Company Value 
The Perspective of the Owner vs. the Perspective of the Operator 
Tools to Understand and Explain Your Business: Accounting, Finance, Economics 
Component Operations Microeconomics: Key Concepts to Maximize Financial Performance 
The modules in this course will help you get into the weeds on your finances and teach you how to truly understand what's happening in your component manufacturing plant. Knowing what drives your costs can save you money and keeping on top of cash flow will keep you profitable.
A better understanding of your finances is going to help you make more strategic business decisions. Get started today!