5000 Iowa Students Participate in Trades Event
Originally Published by: NAHB — May 5, 2022
SBCA appreciates your input; please email us if you have any comments or corrections to this article.
There are many ways to attract the best and brightest to a career in the skilled trades. Direct exposure of students to the skilled trades has been successful in Iowa. To continue this momentum, Iowa Skilled Trades, a non-profit industry group dedicated to bringing initiatives, education and awareness of the skilled trades in the state, hosted its third Build My Future Event in Des Moines, Iowa, on April 13.
Build My Future, held on the Iowa State Fairgrounds, was a hands-on career exploration day. More than 5,000 students from over 140 high schools all over the state attended the high-energy industry showcase. Iowa Gov. Kim Reynolds attended and met with students, parents and educators.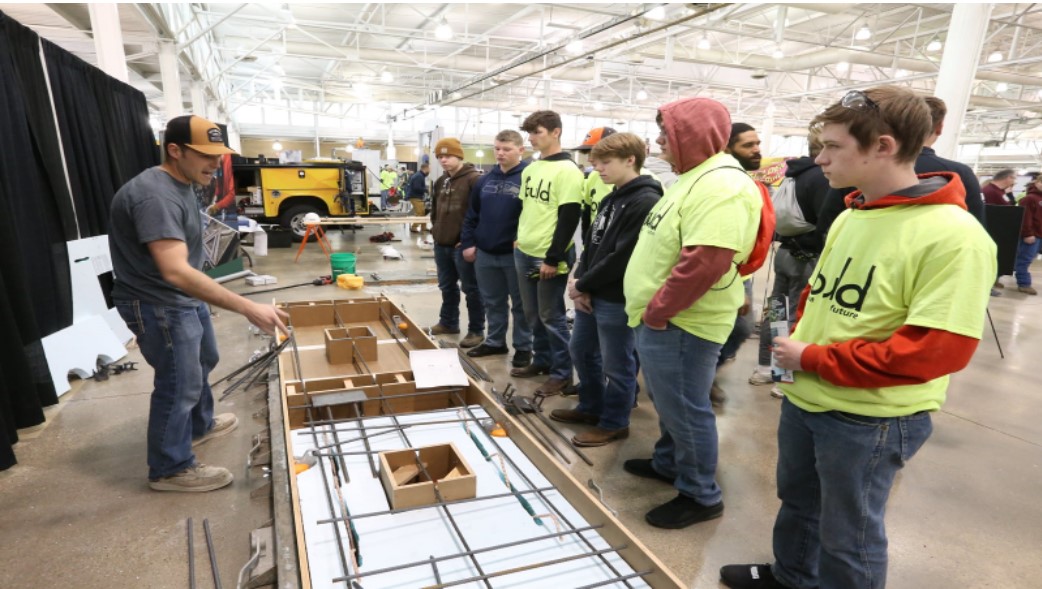 New to the event this year was a mobile app option for students to share their information with event partners, many of them local HBA members. More than 3,000 students opted to share their information once they arrived at the event.
At the beginning of the action-packed day, students were required to attend a safety meeting. All participants were provided with personal protective equipment and a T-shirt. After the safety meeting, students were free to roam the fairgrounds. More than 100 different hands-on activities were available for students to choose from.
"Most people, they are either like….they don't really want to go to college so they are kind of thinking trades, but there are so many trades out there to go into, so no one knows what to do," said a participant to the local NBC news affiliate. "So, coming here would be a great experience for them."
The Home Builders Association of Greater Des Moines (DSMHBA) leadership, staff and more than 200 members played an active role in planning and volunteering for the event. The HBA estimates that 1,500 nails were fired at one booth, 200 RJ45 ends were terminated and 1,000 three-way switches were wired the day of the event. Lunch was served to all the students and one of the vendors reported serving about 45 gallons of ice cream.
Producing a large-scale event with dozens of partners, educators, sponsors, government agencies and non-profits is worth the time and energy, says Dan Knoup, DSMHBA's executive officer.
"If we're not going to take the lead on getting kids excited about what we do, then I believe we won't be here in 20 years… We can sell home shows but if we don't have the labor force to put the homes together, then we might as well just quit.'
View a video recap of the event. All NAHB members and HBAs are invited to the next Build My Future event in Des Moines, Iowa on April 19, 2023. For best practices on how to host a Build My Future event contact Dan Knoup.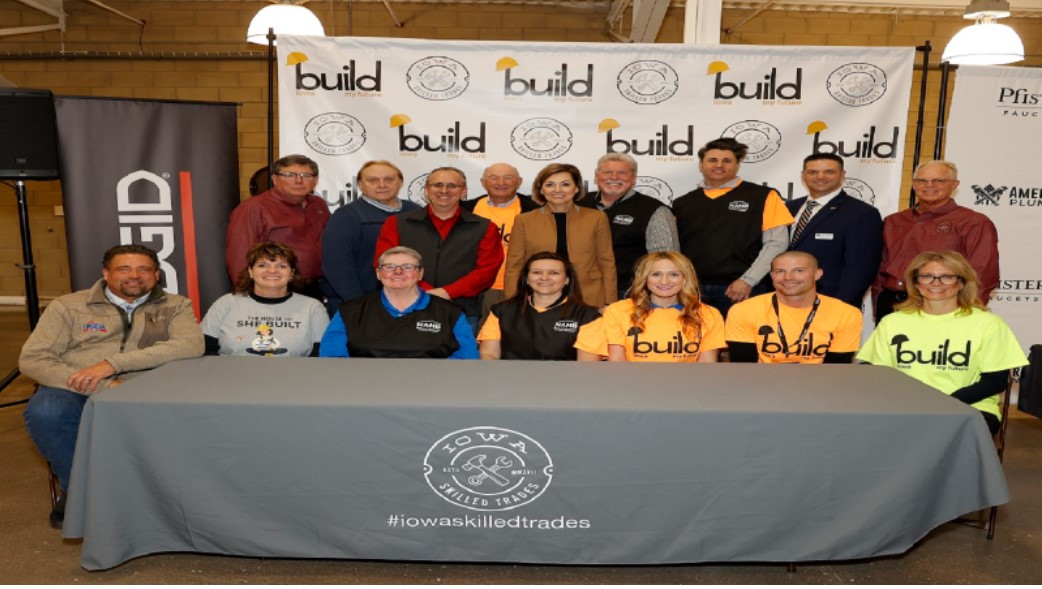 Iowa Governor Kim Reynolds with 2022 NAHB Second Vice Chairman, Carl Harris, HBA leaders and NAHB members.