84 Lumber GM Leverages Culture to Improve Reach
Date posted
October 4, 2022
Originally Published by: LBM Journal — September 30, 2022
SBCA appreciates your input; please email us if you have any comments or corrections to this article.
Cesar Gonzalez, a California native whose parents immigrated from Guatemala, never dreamed that he would one day manage an 84 Lumber store, let alone serve as a role model for countless young Hispanic men and women in his community. Yet today, Gonzalez is the general manager of the Fort Lauderdale, Florida 84 Lumber store, a location with a 40-year history with several loyal customers who have done business there from the very beginning. Gonzalez, who has managed the store for five years, has played an integral role in not only supporting the success of the store, but also connecting with its Hispanic clientele.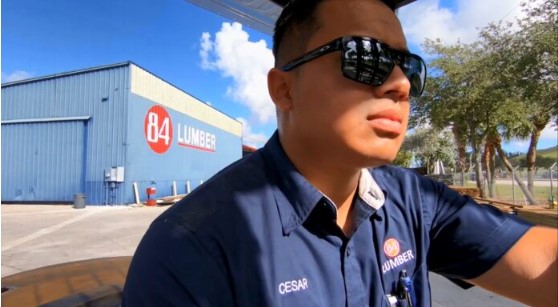 Cesar Gonzalez, 84 Lumber Lumber Ft Launderdale general manager.
Growing up in Los Angeles, Gonzalez watched as his parents, who had arrived in the U.S. with nothing, rented a small closet for the family to sleep in. Working countless hours, they would ride their bikes to and from work, all to survive.
When it came time for school, his parents enrolled him and his siblings in a bilingual school, so that they could learn both the English and Spanish language – something he said has served him well in his role as General Manager for 84 Lumber.
"My bilingual education paid off," he said. "Fort Lauderdale is a melting pot of all different nationalities. Three out of five customers coming in our store speak Spanish, so the fact that I speak and write English and Spanish fluently is part of why I've been successful here."
Gonzalez also notes that when he first started as general manger, he didn't have any salesman at the store. Today, he has three outside sales associates who all speak Spanish. This has helped drive the store's success as Gonzalez explains, most of its customers are walk-ins, so the ability to communicate with those Spanish-speaking customers is key.
By embracing and preserving his culture, Gonzalez has been able to carve a successful career for himself, as well as those in the community.
"I was 20 years old when I started working in the yard at 84 Lumber and juggling college part-time," he said. "A friend of mine who was in sales with the company, had advised me on a career path that I could take should I enter the management trainee program. I am so glad I took the chance. I love it here."
Gonzalez's success has not only afforded him a life he is proud to share with his wife and two toddlers, but also has inspired him to one day mentor young boys that are growing up in a similar circumstance as him.
"I grew up in a rough neighborhood in Los Angeles, and I saw a lot of terrible things," he said. "I didn't have anyone to really push me towards the positive. I hope that my story of success can motivate a young person that wants to get out of a tough situation and work their way up like I did."
"As a family-owned company, 84 Lumber is committed to helping our associates build a long-term career with us. We are proud to say that 95 percent of our store managers started in our manager trainee program," said 84 Lumber Area Manager, Jason Skaggs.