Chart: Mortgage Applications Continue Decline
Originally Published by: NAHB — July 6, 2022
SBCA appreciates your input; please email us if you have any comments or corrections to this article.
Per the Mortgage Bankers Association's (MBA) survey through the week ending July 1, total mortgage activity decreased, with the 30-year fixed-rate mortgage (FRM) rate reaching 5.8% on average. The latest week's rate decreased to 5.74%, declining for the second straight week but still above pandemic levels.
The Market Composite Index, a measure of mortgage loan application volume, decreased by 5.4% on a seasonally adjusted basis from one week earlier, with purchasing decreasing by 4.3% and refinancing decreasing by 7.7%.
The latest month's highest weekly rate was the highest since late 2008 (5.98%). The MBA cited that market expectations of the Federal Reserve's 75-basis-point interest rate hike as well as its implementation resulted in rate increases of at least 20 basis points across all loan types. Affordability changes and low housing inventory continue to challenge homebuying for many.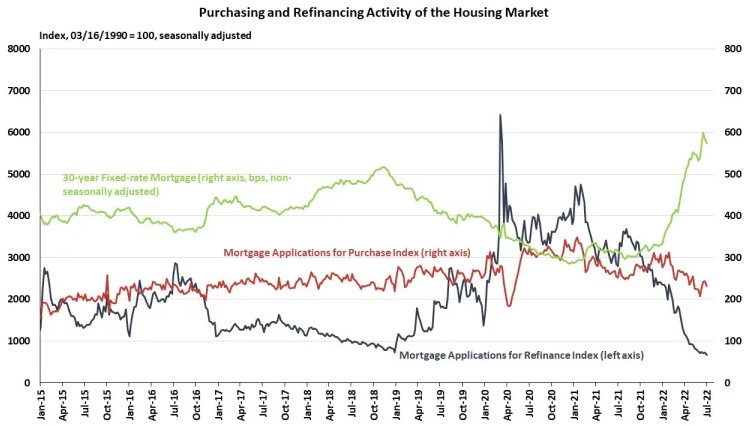 On an unadjusted basis, the Purchasing Index showed a 17% year-over-year decline and the Refinancing Index showed a 78% year-over-year decline. Comparison of the year-over-year percent changes in refinancing and purchasing shows that from October 2021 to present, refinancing has declined by a larger amount.
The refinance share of mortgage activity decreased to 29.6% of total applications from 30.3% the previous week. The adjustable-rate mortgage (ARM) share of activity decreased to 9.5% of total applications.