Entekra Notifies 138 Employees of Plant Closures
Originally Published by: The Modesto Bee — April 24, 2023
SBCA appreciates your input; please email us if you have any comments or corrections to this article.
An off-site construction company with facilities in Modesto and Patterson is being dissolved, resulting in 138 workers losing their jobs.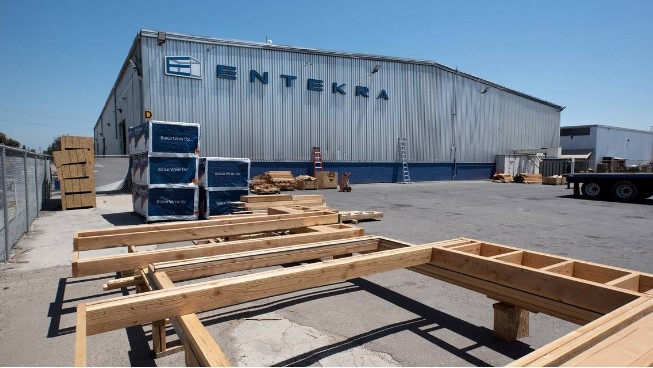 Walls of a residential home are stacked in preparation for shipment at the Entekra manufacturing facility in Ripon, Calif., Thursday, May 24, 2018. ANDY ALFARO aalfaro@modbee.com
Entekra LLC notified Stanislaus County officials in April 17 letters that its two manufacturing facilities in Stanislaus County will close.
The letter said the job cuts were taking effect from April 18 to June 16 and are permanent.
Entekra's operations are expected to be complete by the end of June as the company fulfills final obligations to builders.
Entekra is a design, engineering and manufacturing company that does wood-framing in the factory for residential and commercial building projects.
The Modesto facility on East Whitmore Avenue has served as the headquarters for Entekra in the United States. The company's founder and promoter of its off-site construction process is from Ireland.
Louisiana Pacific Corp., the majority owner of Entekra, released a statement Monday saying in part: "After careful consideration of various strategic alternatives that concluded without external investment interest, Entekra's Board of Directors has come to the difficult decision to cease operations and dissolve the company. An orderly (wind down) of Entekra's operations is expected to be complete by the end of June 2023 as the company fulfills its final obligations."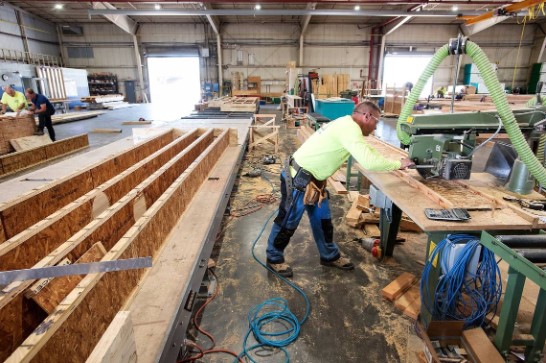 Colm McErlain cuts section for a floor panel at the Entekra manufacturing facility in Ripon, Calif., Thursday, May 24, 2018. Andy Alfaro aalfaro@modbee.com
The Entekra employees are not represented by a union. The letters to the county said they do not have bumping rights, which typically allows senior employees to assume the jobs of workers with fewer years of service.
Entekra began prefabricated construction for residential builders in Northern California in 2017 out of a plant in Ripon, boasting it completed the framing for a home in Los Banos in five days, less than a third of the time it takes for traditional on-site stick construction.
The company proposed to revolutionize construction processes for builders in California.
Louisiana Pacific said that Entekra's long-term success required additional capital investment for regional expansion and increased capacity, but investments did not materialize.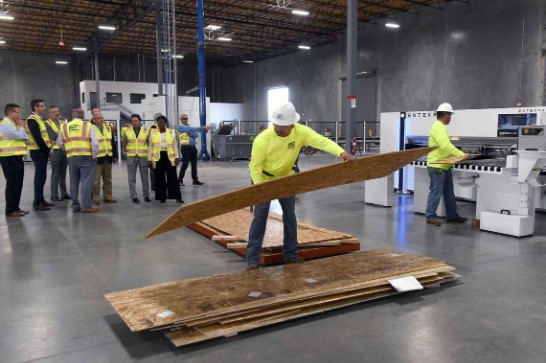 In this November 2019 file photo, employee Gilberto Naranjo places precut sheeting on a pile after using an optimizer to cut them at Entekra in Modesto, Calif. Joan Barnett Lee jlee@modbee.com
Louisiana Pacific stressed that the Nashville-based company and Entekra are separate entities. Louisiana Pacific made an investment in Entekra in 2018 and became the majority owner in 2021.
The building materials giant said it believes off-site construction can transform the home-building industry but it sees more potential in investing in its own core businesses such as LP Structural Solutions and LP Smartside Trim & Siding.