Framers Summit Unites Industry, Highlights Opportunities
Date posted
October 13, 2021
Originally Published by: SBCA Magazine by Sean Shields — October 13, 2021
SBCA appreciates your input; please email us if you have any comments or corrections to this article.
The fourth annual Framers Summit, hosted by the National Framers Council (NFC), brought framers together from throughout the country representing operations both large and small. The event featured two days of educational presentations and roundtables, networking opportunities, and for the first time, a supplier exhibit space.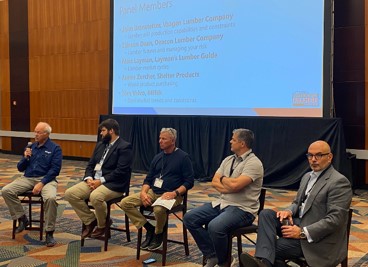 With 79 framers in attendance, the Framers Summit featured an economic forecast from John Burns Real Estate Consultants and a risk management seminar focused on customer contract provisions to consider in managing your risk in a volatile raw material market. The highlight of the first day was an open discussion on strategies for navigating today's disruptions to the material supply chain. A panel of industry experts shared their observations and knowledge about the challenges and constraints facing both the wood products and steel industries and what framers can do to avoid being caught flat footed.
The second day of education covered trends in mass timber construction along with the challenges of framing with CLT, as well as a presentation on framer company valuation and potential merger and acquisition (M&A) activity in the framing industry. Finally, the NFC Steering Committee provided an update on what the organization is doing with regard to jobsite safety and standards development.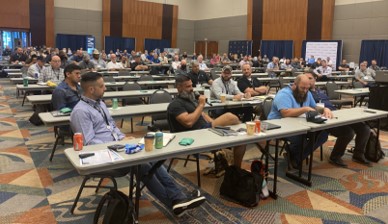 Overlaying all the education and one-on-one conversations were vibrant framer-supplier interactions with the 14 exhibitors at the Framers Summit's first "show floor." This new arrangement allowed framers to ask questions from multiple vendors and learn more about several new entries to the framing supply chain. "I thought the addition of exhibit space to the Framers Summit was fantastic," says Wes Robbins of Quick-Tie. "The opportunity to talk with multiple framers at the same time and build relationships is just not you often get the chance to do."
The NFC would like to thank the following sponsors for their generous support of the Framers Summit, without whom this event would not have happened: 5-Star Building Solutions; Blue Sky Tie Down Systems; Estiframe Technologies; Fastenmaster; Hoover Treated Wood Products; Idaho Pacific Lumber Co; MaterialsXchange; Mitek; OTH Rigging Solutions; Quicktie Products; Sharpen Business Analytics; Shelter Products; Shelter Systems Limited; Simpson Strong-Tie; Truss Brace Solutions; Trussway; and, TrussWorks LLC.