Hancock Lumber Named 2022 ProDealer of the Year
Date posted
January 25, 2022
Originally Published by: HBS Dealer — January 19, 2022
SBCA appreciates your input; please email us if you have any comments or corrections to this article.
Casco, Maine-based Hancock Lumber is no stranger to accolades. It's been named a Best Place to Work in Maine for eight straight years. Company CEO Kevin Hancock is not only an award-winning CEO, he's an award-winning author.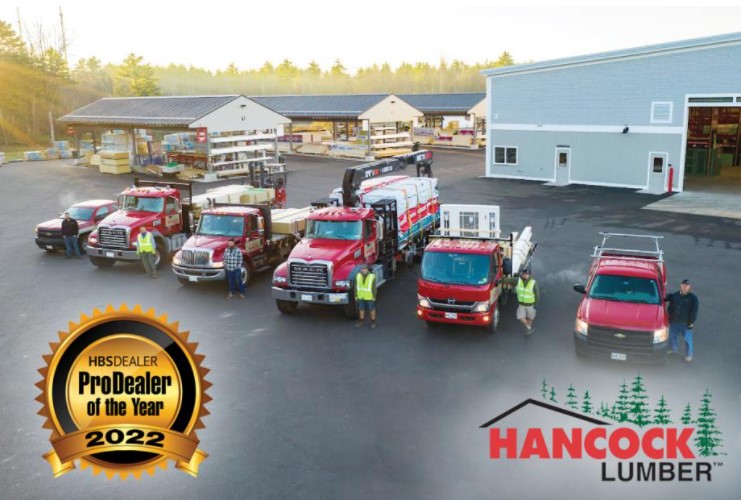 Hancock Lumber's Saco, Maine, location.
And during a ceremony at the upcoming ProDealer Industry Summit in Washington, D.C., Hancock Lumber will add another accolade to its collection: ProDealer of the Year.
The 2022 honoree is a seventh-generation family-owned business with 12 lumberyards in Maine and New Hampshire – plus several manufacturing facilities and design showrooms. Last year marked an active year of growth for the diverse business, as it acquired Winnipesaukee Lumber and Laponite Lumber, bringing two more family-owned businesses under the Hancock fold.
The annual ProDealer of the Year award, selected by the editors of HBSDealer in concert with the National Lumber and Building Material Dealers Association, is designed to recognize a high-performance lumberyard with a commitment to best practices and the best values of the lumber and building material industry.
Hancock Lumber CEO Kevin Hancock described the decision as humbling and exciting.
"It's humbling because—as a past chair of the NLBMDA—I know how many amazing lumber dealers there are across America," Hancock said. "Our industry is filled with incredible companies that provide authentic and sustained value to their employees, industry, and community."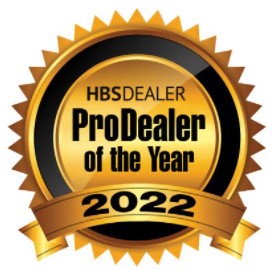 Hancock added: "At the same time, it is also exciting to be recognized as dealer of the year because it means that our employees, customers, and supply partners are combining their talents to create an experience that is nationally recognized as being unique and noteworthy."
The ProDealer of the Year award ceremony, one of the highlights of the annual ProDealer Industry Summit – held this year March 29-April 3 —is slated for April 1 in Washington, D.C. Sponsoring this year's ProDealer of the Year Award ceremony is Simpson Strong-Tie.
Hancock Lumber operates 12 lumberyards, 9 kitchen design showrooms, three sawmills, and truss and wall panel manufacturing facilities. More importantly, the company embraces a shared-leadership approach to business that is designed to do nothing less than "improve the lives of anyone who works at the organization," a phrase taken straight from the company's mission statement.
"We're proud to recognize Hancock Lumber, a company well known for its quality, as well as its culture that captures perfectly the spirit of the award," said HBSDealer's Editor Ken Clark. "They have an all-in-this-together approach that's not only inspirational, it works."
Past honorees of the "ProDealer of the Year" award include McCray Lumber (2021); National Lumber (2020) and Mead Lumber (2019).
The ProDealer Industry Summit, hosted jointly by the NLBMDA and HBSDealer, provides an exclusive three-day virtual educational forum designed to promote the growth of lumber & building product dealers, distributors, wholesalers, and the manufacturers who supply them.