Home Depot and Lowes Q2 Earnings Give Insight Into Market
Date posted
August 29, 2023
Originally Published by: HBS Dealer — August 24, 2023
SBCA appreciates your input; please email us if you have any comments or corrections to this article.
Uncertainty over the macro environment – you can throw in the adjective "unique" – was a theme from both second quarter earnings presentations from the nation's two giant home centers.
Home Depot's Ted Decker and Lowe's Marvin Ellison, the CEOs of Home Depot and Lowe's, respectively, also described lumber deflation and soft demand on big-ticket items as a contributor to negative comp-store sales in the quarter. The companies also responded to the impact of shrink in their presentations.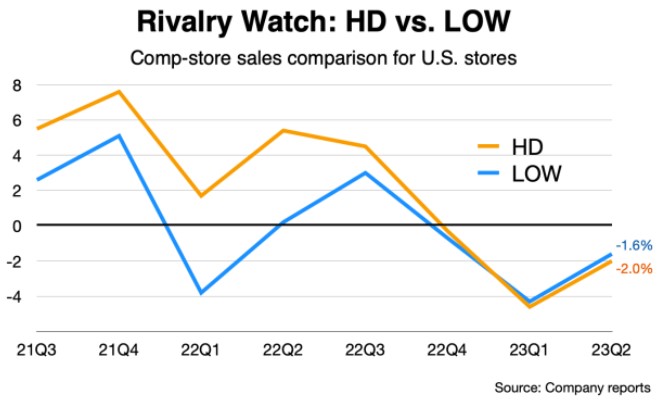 Lowe's kept its ever-so-slight edge in comp-sales performance in the second quarter.
Home Depot's experience with lumber deflation. On average, he said, framing lumber in the second quarter sold for about $420 per 1,000 board feet. A year ago, it sold for $715. That's a decline of 40 percent.
Other statistics of note from Home Depot's presentation:
Six of 14 merchandising departments posted positive comps: Building materials, outdoor garden, hardware, plumbing, tools and millwork.
Sales leveraging digital platforms increased 1 percent over the same quarter last year. Almost half of online orders were fulfilled through physical stores.
Big ticket sales ($1,000-plus) comp transactions were down 5.5 percent.
"Softer engagement in big-ticket discretionary categories like patio and appliances that likely reflects both pull-forward of these single-item purchases and deferrals," said Bastek.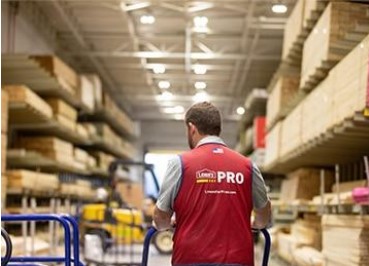 Building materials was described as a strong category for Lowe's in Q2.
For Lowe's, CEO Ellison said the company's 1.6 percent comp-store sales decline was slightly better than expected. The retailer enjoyed positive comps in pro sales, and a 6.9% comparable sales growth online "as we continue to improve our omnichannel experience," he said.
Major metrics and trends from Lowe's include:
The company produced sales growth in the following categories: rough plumbing, building materials, paint, seasonal and outdoor living, lawn and garden, and hardware.
Comparable average ticket was up 0.3 percent compared to the same quarter last year.
Comp transactions, however, declined 1.9%. As the retailer dealt with "continued pressure in DIY discretionary purchases," said Brandon Sink, executive vice president and CFO.
Responding to the trend of buy-online-pick-up-instore (BOPIS) the Lowe's is planning a physical makeover. Joe McFarland, executive vice president of stores, explained: "Looking ahead, we are further enhancing our BOPIS experience as we transform the front-end of our stores. This includes an expanded staging area, a dedicated pickup desk with improved signage, and new technology that expedites the process."
Home Depot and Lowe's, two of the retail industry's biggest rivals, shared an optimistic view of the health of the pro customer in terms of backorders.
"While surveys suggest that pro backlogs are lower than they were a year ago, they are still healthy and elevated relative to historical norms."

Ted Decker, Home Depot CEO
"While surveys suggest that pro backlogs are lower than they were a year ago, they are still healthy and elevated relative to historical norms," said Decker.
Both retailers touched on the topic of shrink and shoplifting. Ann-Marie Campbell, Home Depot's executive vice president of U.S. Stores, said the impact of shrink has been in line with the past several quarters. She also promoted the INFORM Act, as a component of helping to fight organized crime, in addition to retail initiatives.
Shrink has been a consistent pressure over the last several quarters and even the last few years," said Home Depot CFO Richard McPhail. "And it's something we're tackling every day."
Lowe's Joe McFarland pointed to a tech-driven solution involving RFID technology embedded in power tools to prevent theft. "This solution will be largely invisible to customers, but it makes a tool inoperable until it is scanned and purchased," he said.