How Many New Multi-Family Units Will Come from Former Offices?
Date posted
September 27, 2022
Originally Published by: Multifamily Executive — September 14, 2022
SBCA appreciates your input; please email us if you have any comments or corrections to this article.
The nation is in the grip of a crushing housing shortage. Home prices and rents are near or at record highs, and there aren't nearly enough homes for the people who want them.
And yet some of the country's most desirable real estate in prime locations sits mostly vacant.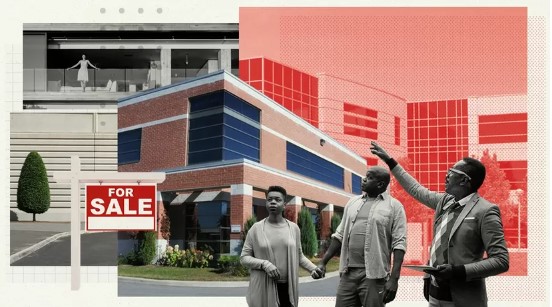 (Photos: Getty Images; Design: Realtor.com)
Experts predict that many office buildings, often located in urban downtowns and on the edges of suburbs, will never return to full occupancy as many remote workers have been loath to schlep back to their desks full time.
Workers in the nation's priciest cities with long, expensive commutes have been especially resistant to returning to their offices, even as the threat of the COVID-19 pandemic has faded. But as corporate America lurches toward some kind of new normal, the question of what will happen to some of the unused office space has pushed again to the forefront.
Even as many workers file back to their offices this week—some for the first time since the pandemic took hold—the future of many of these towering, half-empty buildings remains uncertain.
Some office buildings are indeed likely to have second acts as apartments, condos, and other types of housing. While this kind of large-scale transformation won't solve the housing crisis, it could add desperately needed housing stock to the market.
"We're not going to need as much office space as we have now," says Brian Kropp, vice president of research in human resources at Gartner. The international consulting firm works with medium to large companies with annual revenues of at least $1 billion. "It's in a city's interest to do something with that space."
Nationally, offices had just a 43% occupancy rate in the week ending Aug. 24, according to security systems company Kastle. And even as large companies such as Apple are requiring workers to return to the office at least three days a week, other companies like Twitter are downsizing their office space as workers can remain fully remote if they choose.
The reimagining of offices to housing has happened before—in fact, it's been slowly underway since the 2010s, when the nation was in the throes of the Great Recession.
Last year, more than 8,000 apartment units were estimated to have been created from former office buildings, according to rentals site RentCafe. About 13,000 more units in previous office buildings are expected to come online this year. Most of the units were completed in Philadelphia and Washington, DC, and the most on tap for this year are in Los Angeles and Cleveland.
But with the ongoing uncertainty of post-pandemic working environments, these types of conversions could get turbocharged.
Some office towers could go the way of "dead malls," which many cities have repurposed into developments that mash up shopping with housing, entertainment, and dining. Some could even be retrofitted into schools, senior centers, or other community spaces.
But here's the thing: Converting an office building into an apartment or condo building takes more than just a snap of the fingers. These are often costly, difficult projects that typically take years and miles of bureaucratic red tape to complete.
"One of the problems with trying to [repurpose] these types of buildings as housing is these areas tend to have higher costs, a lot more regulatory barriers, and long timelines for getting projects done," says Jason M. Ward, associate director for the Rand Center for Housing and Homelessness in Los Angeles. "The areas where you might have the most opportunities are the areas that are the hardest to build in."
These adaptive reuse projects, as they're called, can take a long time to complete.
"The cost of conversion coupled with the challenges of high labor and supply chain [problems] and zoning changes that would be required could take a number of years," says national real estate appraiser Jonathan Miller. "And by then, who knows what the needs will be?"
Why offices could remain empty
Some companies, especially financial and legal firms, have already ordered employees back to the office five days a week. But plenty of employers are coming to grips with the reality that their workers may choose not to return to the office full time.
New York City "is booming," says Miller. "But [residents] are not coming back to work in a physical office."
New York City had the lowest office occupancy rate of the 10 cities tracked by Kastle. Just 35.3% of workers had returned to their cubicles in the week ending Aug. 24. They were also below 40% in Washington, DC, San Francisco, and Silicon Valley's San Jose, CA.
Meanwhile, more than half of employees were back at their desks in the Texas cities of Houston, Dallas, and Austin, where the cost of city living and commute times are lower.
Companies are now expecting that about a quarter of employees whose jobs can be done remotely will never come into an office, according to Gartner. Over half of employees who can work remotely will be hybrid. The remaining nearly 20% of these workers will go to their offices five days a week.
"If 1 in 4 employees are not going to be in the office ever, why do [we] need space for them?" says Gartner's Kropp.
Holding on to unused square footage is expensive for companies. They have to pay to heat and cool the space, clean it, and provide electricity, technicians, office supplies, and machinery. And they have to cough up rent.
About a quarter of the companies Gartner works with have shed office space. An additional 40% plan to do the same and are in the process of figuring out how much square footage to downsize. The remaining 35% are still assessing their future real estate needs.
The problem is that businesses generally lock in office leases for anywhere from five to more than 20 years. So a firm that signed a new lease or renewed an existing one right before the pandemic could be locked in for nearly two more decades.
As corporate tenants move out and continue downsizing over the next few years, the viability of these office buildings will come more into focus.
"This is painful," says Tracy Hadden Loh, a fellow at the Brookings Institution who specializes in commercial real estate. However, "things are going to start to accelerate in two or three years."
Which kinds of office buildings could be reimagined as housing?
Older, generic office buildings—often constructed in the 1970s and 1980s, dotting the downtowns of cities, and perched in suburban office parks or near highways—are most vulnerable to conversions. These Class C buildings, as they're known, often don't have the amenities that modern workers want, such as lots of natural light and indoor-outdoor spaces, and typically aren't as energy-efficient as newer buildings.
These buildings are experiencing "their midlife crises" and are ripe to become something else, says Hadden Loh. "There's still new demand for offices. It's just new demand for new offices."
When it comes to older buildings, only about 30% are good candidates for conversions, says Steven Paynter, a principal at architecture and design firm Gensler. The firm recently completed the Franklin Tower Residences, with created about 550 luxury apartments from a former office tower in Philadelphia.
Buildings need to be laid out in a way that is amenable to a conversion. And even in mostly empty buildings, a few tenants will likely be holding on until their leases expire—which could take years. Then the developers must receive zoning and approvals to push the projects through.
However, Paynter believes most cities will begin these transformations over the next few years.
"A lot will be converted as there's a lot of interest in it now, not just from developers, but from cities as well," says Paynter. "You can add some 24/7 life to these cities by converting some of these buildings."
However, there will still be plenty of office space. Corporate executives still want places where workers can go, collaborate, and work. Younger workers, in particular, are eager to meet their colleagues in person, make connections, and get face time with their mentors. They just want more inviting places to spend their days.
"The old job of the office was [to be] the place where people came to do work. Now it needs to be the place where people come to connect and build relationships with one another," says Kropp. Companies are "really trying to think through how to create more collaborative spaces in a new hybrid [working] world."