Infrastructure Bill Has $100M to Push 3D Modeling/BIM
Date posted
August 17, 2021
Originally Published by: Construction Dive — August 11, 2021
SBCA appreciates your input; please email us if you have any comments or corrections to this article.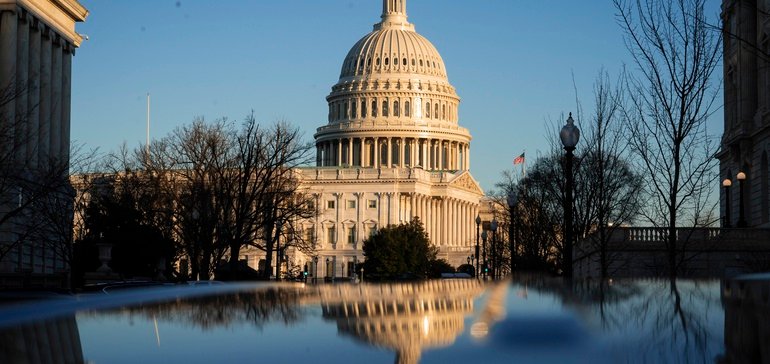 Sarah Silbiger via Getty Images
Dive Brief
The $1.2 trillion bipartisan infrastructure bill passed by the Senate Tuesday includes $100 million over five years to accelerate the deployment of digital construction technologies such as 3D modelling software and digital project management platforms.

The Coalition for Smarter Infrastructure Investments, a collection of digital infrastructure companies that includes Bentley Systems and Mott McDonald, lobbied for the inclusion of the funding in the bill to move beyond the pen-and-paper processes that still dominate the construction industry.

"With increased funding, it's more important than ever to modernize how we design, build and manage infrastructure so that each dollar we invest goes further," said Si Katara, co-founder of the coalition and president of visual-based inspection technology firm HeadLight, in a statement.
Dive Insight
Katara said the bill provides massive opportunities to firms in a "rising tides raise all boats" scenario. Katara called the bill "a once in a generation opportunity to do something transformative."
The bill includes billions of dollars in funding for bridges, roads and other aging infrastructure, along with an annual $20 million dollar investment fund for innovation in construction management. It passed the Senate by a 69-30 vote, clearing its way to be debated in the House.
Construction management technologies aren't the only high-tech advancements Congress is considering in the bill. Broader use technologies, such as electric vehicles and broadband internet, are also on tap for significant federal funding, with the two combining to receive $72.5 billion, according to CNBC.
The coalition lobbied for changes to how the United States works on infrastructure this summer, beginning shortly after the Biden administration put out its massive infrastructure proposal in March. Its success now is imperative to a modern path forward for infrastructure investment, the coalition said.
"It would be crazy to pump hundreds of billions into new infrastructure projects while still relying on design and management systems that look like they are out of the 1930s," said David McKenney, vice president of Bentley Systems. "America ranks only 13th in the world for infrastructure — we need to invest more to compete, but we also need to invest in a smarter way. Technology and data can help us do that."
Katara said that the funding would be able to let people focus on their work. By removing overhead and giving back the hours workers spend "hand-jamming reports," they'll instead be able to spend most of their time in the field working.
On the heels of a damning climate change report by the Intergovernmental Panel on Climate Change (IPCC) that recommended drastic action to reduce emissions before 2040, Katara also spoke about the effects of innovation on climate change and the environment. He said it would be "a terrible missed opportunity" if companies ignore environmental issues when innovating.