Map: Where Housing & Construction Rely Most on Immigrants
Date posted
April 11, 2023
Originally Published by: NAHB — April 6, 2023
SBCA appreciates your input; please email us if you have any comments or corrections to this article.
Earlier this year, we published a post highlighting a continuing high reliance of construction on immigrant workers post pandemic. Immigrants make one in four construction workers. The share is significantly higher, reaching 30%, among construction tradesmen. In some states, reliance on foreign-born labor is even more pronounced with immigrants comprising close to 40% of the construction workforce in California and Texas.
According to the government's system for classifying occupations, the construction industry employs workers in over 380 occupations. Out of these, only 33 are construction trades, but they account for almost two thirds of the construction labor force. The other one-third of workers are in finance, sales, administration and other off-site activities. Immigrants account for 30% of all workers in construction trades.
Concentration of immigrants is particularly high in some of the trades needed to build a home, like plasterers and stucco masons (56%), drywall/ceiling tile installers (52%), roofers (48%), painters (47%), carpet/floor/tile installers (43%), and construction laborers (38%) – trades that require less formal education but consistently register some of the highest labor shortages in the NAHB/Wells Fargo Housing Market Index (HMI) surveys and NAHB Remodeling Market Index (RMI).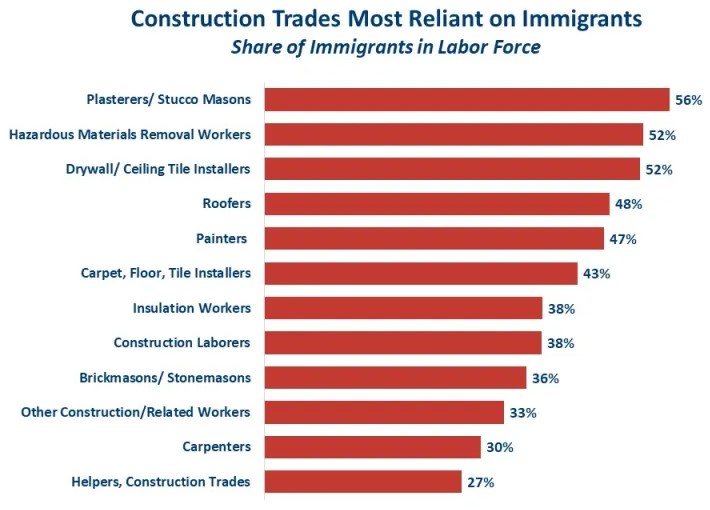 The two most prevalent construction occupations, laborers and carpenters, account for about 30% of the construction labor force. More than a third of all construction laborers (38%) and 30% of carpenters are of foreign-born origin.
Reliance on foreign-born labor is quite uneven across the US states. Immigrants comprise close to 40% of the construction workforce in California and Texas. In Florida, 37% of the construction labor force is foreign-born. In New York and New Jersey, one out of three construction industry workers come from abroad.
Traditionally, construction immigrants are concentrated in a few populous states, with more than half of all immigrant construction workers (55%) residing in California, Texas, Florida, and New York. These are not only the most populous states in the U.S. (together accounting for a third of the country's population), they are also particularly reliant on foreign-born construction labor, as more than a third of the construction industry workforce in these states comes from abroad.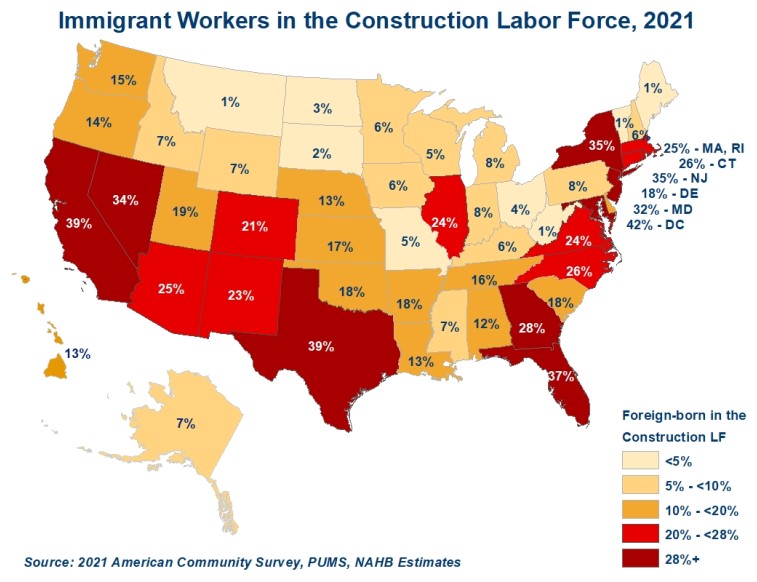 However, the reliance on foreign-born labor continues to spread outside of these traditional immigrant magnets. This is evident in states like Nevada, New Jersey, Maryland, and Georgia, where immigrants, as of 2021, account for between 28% and 35% of the construction labor force. In Connecticut, North Carolina, Rhode Island, Arizona, Massachusetts, one out of four construction workers are foreign-born.
While most states draw the majority of immigrant foreign-born workers from the Americas, Hawaii relies more heavily on Asian immigrants. European immigrants are a significant source of construction labor in North East and Illinois.