Post-COVID, 1/3 of Builders Want to Retain Expanded Supply Base
Date posted
January 12, 2022
There's certainly no arguing that COVID changed our world, but the debate continues as to whether the day-to-day changes are temporary or if they will have a long-lasting impact on our behaviors. In an effort to determine if COVID will have a lasting impact on new home features and on the business of building them, Home Innovation Research Labs conducted a survey in collaboration with Professional Builder magazine to learn specifically what practices were adopted as a result of COVID, and which of those practices will remain after the pandemic is "over."
Home Innovation included two questions on this topic in our December Omnibus Survey; 300 qualified builders replied. The first question provided respondents with a list of more than 20 potential home and business changes with the question of which their company had adopted as a result of COVID. For each checked response, respondents were then asked whether they plan to continue the listed practice after COVID. In the graph below, the orange bars represent initial adoption due to COVID, while the blue bars represent changes builders expect to continue after the pandemic.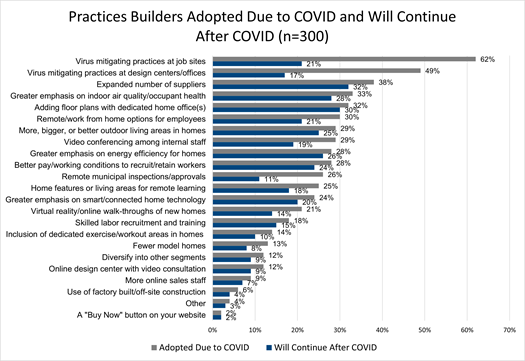 Here Today, Gone Tomorrow? COVID-Prompted Home Building Trends
The findings overall show that virus-mitigating practices were picked up by the largest share of builders during COVID — top two responses — but that they will likely be dropped by the majority of respondents after the threat of COVID has disappeared. Another popular pandemic-inspired practice that appears like it will lose some steam after COVID is "Remote Inspections" for building code compliance. Remote work and video conference meetings were picked up by about 30% of builders, but about one-third of those will also likely be dropped after COVID.
New technologies, such as virtual reality, also received a boost, but the findings show that a third of that gain will also be gone after COVID. Likewise, about 12% of companies reported business diversification with COVID, but said that will drop by a quarter after the pandemic.
Other changes look to be more permanent. For example, the building material supply chain issues during COVID seemed to have caught many builders flat-footed. This has resulted in them expanding the number of suppliers from whom they source materials, and they will very likely continue to maintain relationships with a larger number of suppliers into the future so they don't find themselves in the same situation again. Also, the boost in improved and/or expanded outdoor living space that COVID initiated as a result of homeowners being in their homes more and requiring different uses for their indoor spaces, looks like it will continue. This lingering impact is also true for home offices, healthier homes, increased energy efficiency, space for remote learning, and smart home technologies.
This is just the first round of findings from this most recent omnibus survey. In my next summary, I'll share some findings about how these trends differed by size and type of builder and by region of the country. In the meantime, if you're interested in finding out more about how these finding might be relevant to your business in the coming year(s), get in touch with me today.