Report Suggests Workplace Fatalities Need Greater Attention
Originally Published by: EHS Today — June 6, 2022
SBCA appreciates your input; please email us if you have any comments or corrections to this article.
The numbers aren't good.
In the AFL-CIO 2022 edition of "Death on the Job, The Toll of Neglect," released in April 2022, the numbers tell a startling story.
| | |
| --- | --- |
| 120,000 | The estimated number of workers who died from occupational diseases |
| 4,764 | The number of workers who died on the job in the US in 2020. |
| 705 | The number of worker deaths caused by workplace violence in 2020 |
| 340 | The number of workers who died each day due to hazardous working conditions |
Other statistics from the report include almost 3.2 million work-related injuries with a job fatality rate of 3.4 per 100,000 workers.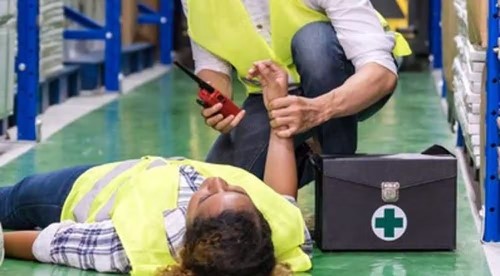 Examining specific industries, transportation and warehousing had a rate of 13.4 per 100,000 workers While construction had a rate of 10.2 per 100,000 workers.
The report says that this figure might not be an actual one due to underreporting, which it said is widespread, and so put the true toll of work-related injuries and illnesses at 5.4 million to 8. 1 million per year.
When looking at the cost of this, the report puts the figure at between $176 billion to $352 billion a year.
However, in addition to those grim figures, there are some good statistics. The report notes that due to The Occupational Safety and Health Act, which has been in effect for more than 50 years, 647,000 workers' lives have been saved.
The report also notes that federal job safety agencies have improved worker safety by issuing regulations on many hazards as well as on silica and coal dust among others.
But more work needs to be done according to the report. "The nation must renew its commitment to protecting workers from job injury, disease and death, and make this a high priority. Employers must meet their responsibilities to protect workers and be held accountable if they put workers in danger. Only then can the promise of safe jobs for all of America's workers be fulfilled. There is much more work to be done to ensure the fundamental right to a safe job is a reality for all."
The report makes some recommendations and here are a few:
Employers and elected leaders must recognize that employment is a significant determinant of health—and our government must emphasize workplace exposure control measures to resolve this. Severe inequities in dangerous working conditions have created an unacceptable discrepancy in those who face the largest burdens of disease, injury and death because of their jobs. Initiatives to address the safety and health risks posed by changes in the workforce and employment arrangements must take more prominence, and workplace safety and health regulations must be seen as a significant tool to raise the level of working conditions for those disproportionately affected. There must be renewed, dedicated attention given to the increased risk of fatalities and injuries faced by workers of color and immigrant workers, and aging workers, and enhanced efforts to protect temporary and contract workers.
OSHA must swiftly finalize its proposed standard on electronic injury reporting, make more of the data collected public and fully enforce the anti-retaliation protections for workers who report injuries. OSHA must move forward to issue proposed rules on emergency response, heat illness prevention and infectious disease.
Workplace violence is a growing and serious threat, particularly to women workers and those in the health care and social services sectors. OSHA must develop and issue a workplace violence standard, and the Senate should pass the Workplace Violence Prevention for Health Care and Social Service Workers Act to ensure this is done.
OSHA standards for chemical hazards are obsolete and must be updated. The Environmental Protection Agency (EPA) must fully implement the new toxic chemicals reform law and coordinate with OSHA and NIOSH, taking action to address the risks to the public and to workers. New initiatives are needed to address musculoskeletal disorders and combustible dust.