Simpson Strong-Tie Acquires EstiFrame
Date posted
January 24, 2023
Originally Published by: Simpson Strong-Tie — January 17, 2023
SBCA appreciates your input; please email us if you have any comments or corrections to this article.
Simpson Strong-Tie, the leader in engineered structural connectors and building solutions, today announced that the company has acquired Elk Grove, CA–based EstiFrame Technologies, Inc. Founded in 2017 by Coby Gifford and Aaron Love, EstiFrame provides component manufacturing and framing technologies to the construction industry, including the EasyFrame automated marking system that matches saws with digital printers to label 2x frame members for fast and accurate assembly.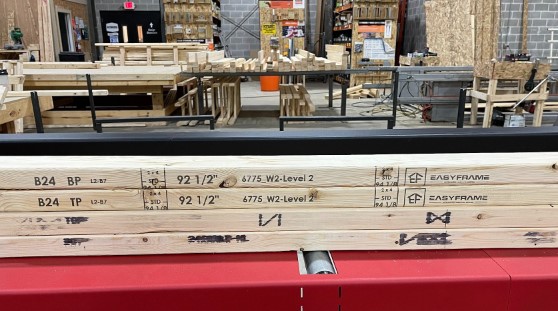 Designed to reduce construction timelines and address skilled labor shortages in framing and construction, the EasyFrame system prints framing blueprints for a structure directly onto the framing members themselves. Paired with either a manual or automated saw, the system provides wall panels that are pre-marked for easy assembly, driving construction efficiency and accuracy.
"EstiFrame has established a strong reputation for providing easy-to-adopt, scalable solutions to LBM dealers and framing shops looking to gain critical efficiencies in component manufacturing," says Simpson Strong-Tie Vice President of Customer Facing Technology April Burt. "The EasyFrame system is a logical and complementary addition to the Building Technology solutions already provided by Simpson Strong-Tie, and expands our offerings for customers who continue to seek more efficient ways to convert the digital frame into strong, safe physical structures."
Driven by one of the most powerful linear optimization algorithms available, EasyFrame software is designed to save the greatest amount of wood possible by managing cut completion activity and constantly re-optimizing on the fly.
As part of the acquisition, Gifford and Love will remain with the EstiFrame team to ensure a seamless transition as Simpson Strong-Tie assumes customer sales and service, continuing to provide saw setup and installation as well as onboarding and design services, including training operators how to best use and leverage the EasyFrame system.
For more information on Simpson Strong-Tie building technology solutions dedicated to improving productivity, efficiency, and accuracy with integrated component systems, visit strongtie.com/products/connectors/ics.