This is What is Currently Keeping Contractors Up a Night
Date posted
January 11, 2023
Originally Published by: Construction Dive — January 9, 2023
SBCA appreciates your input; please email us if you have any comments or corrections to this article.
Builders are bullish on infrastructure work this year thanks to federal funding, but expect supply chain snarls and hiring difficulties to persist, according to Associated General Contractors of America's 2023 Construction Outlook National Survey.
COVID-19 continues to impact the industry, hitting supply chains in particular. That's the top concern for builders in the survey, as the uncertainty has caused a variety of negative ripple effects that ultimately mean higher costs and lower profits. As inflation and the specter of a recession continue to loom, contractors are feeling less confident about private sector work.
Builders have reason to be worried: last year 36% of respondents had projects canceled or postponed but not rescheduled. The main reason given, for about half the projects, was rising costs. The association received 1,032 responses overall, primarily from general contractors.
Although contractors are optimistic overall, that doesn't mean there aren't rocky times ahead, said AGC Chief Economist Ken Simonson in a webinar last week about the survey.
"Even when we've had recessions or slow growth expectations for the economy, contractors are by nature optimists," Simonson said. "But it is notable that in nearly all of these categories, particularly on the private side, contractors have lower net positive readings or deeper negative readings than they did in previous years."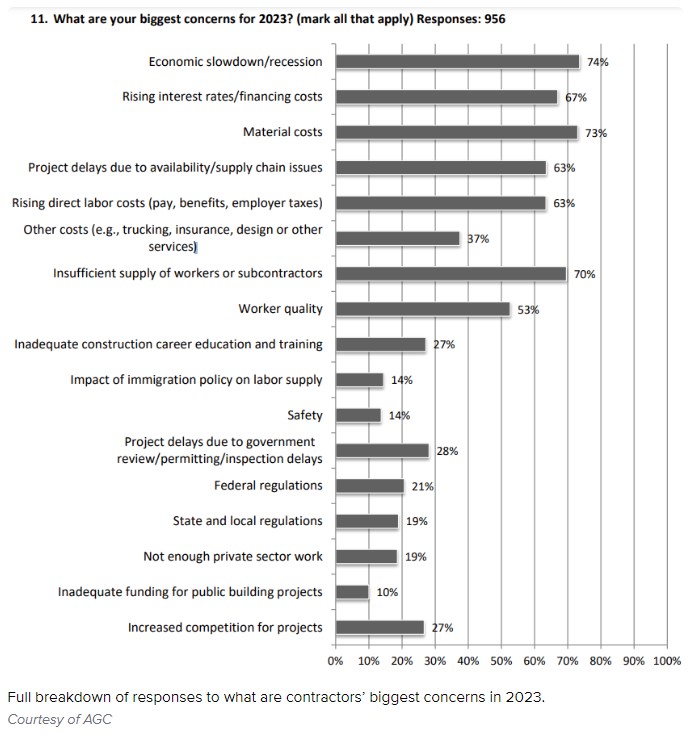 Here are some other takeaways from the survey:
Supply chains are still broken
Contractors' biggest concern for the coming year is the supply chain. The ongoing issues cause project delays, time-consuming logistical headaches and price hikes for materials.
"Supply chain issues and material cost issues will continue, and will continue to have profound effects on schedules and affordability of new projects," said Mac Caddell, president of Caddell Construction headquartered in Montgomery, Alabama, during the webinar.
To cope in 2022, 70% of respondents accelerated purchases after winning contracts, about half turned to alternative suppliers or used alternative materials or products and 22% stockpiled items before winning contracts.
Hiring will only get harder
Workforce shortages make projects take longer and cost more, and look set to worsen in 2023. In the coming year, 69% of contractors expect to hire and only 11% expect to reduce their headcount, according to the survey. To entice workers, last year 72% increased base pay rates more than in 2021 and about a third boosted bonuses and benefits.