Top 25 Multifamily Builders in the U.S.
Date posted
April 26, 2023
Originally Published by: Construction Dive — April 19, 2023
SBCA appreciates your input; please email us if you have any comments or corrections to this article.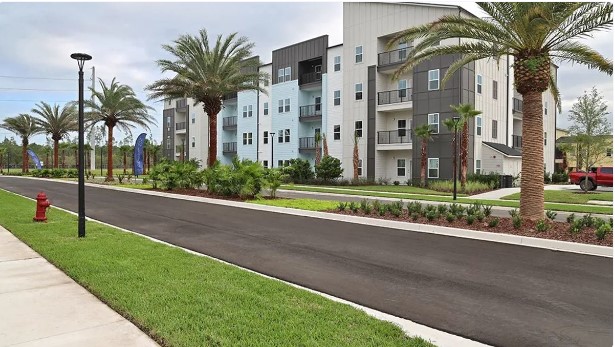 Summit Contracting Group is building the multifamily phases of the mixed-use Grand Cypres development in St Johns, Florida. Permission granted by Summit Contracting Group
Dive Brief:
Summit Contracting Group moved up two spots to claim the No. 1 ranking on the

National Multifamily Housing Council's Top 25 list of apartment builders

, released last week. The Jacksonville, Florida–based company started 14,184 units — 3,500 more than the year before.

Scottsdale, Arizona–based Alliance Residential remained in the No. 2 spot after starting 13,480 units in 2022 — 2,000 more than the year before. Boca Raton, Florida–based Mill Creek jumped into the third spot with 10,877 starts, an increase of almost 3,500 apartments compared to the year before.

Atlanta-based Wood Partners increased its starts by more than 3,000 to hit 10,650 and claimed the No. 4 spot. Greystar fell from No. 1 to No. 5, though its starts ticked up from 10,386 to 10,467.
Dive Insight:
NMHC's builders list tracked very closely to its developer's ranking in a number of ways. Many developers who solely do their own construction posted identical numbers on both lists. And the majority of companies on both lists posted increases in starts as the same tailwinds powered developers and contractors in 2022.
But internal factors also played a role for companies like Summit. "The number of starts in 2022 is a reflection of our growth as a company, having the ability to take on more projects with a solid team, and it is a factor of a very active cycle in the multifamily industry," Marc Padgett, president at Summit, told Multifamily Dive.
Three of the five companies that rounded out the top 10 had increases in starts:
No. 6 Austin, Texas–based OHT Partners started 600 fewer units, landing at 9,900 apartments.

No 7 Dallas-based Trammell Crow Residential started almost 4,000 more units, hitting 8,433 apartments.

No. 8 Cleveland-based The NRP Group started 1,500 more apartments to reach 6,990 units.

No. 9 Arlington, Virginia–based CBG Building Co. notched more than 400 more starts to post 5,665 starts.

No. 10 Rosemont, Illinois–based The McShane Cos. saw starts decline by almost 4,000 apartments but still hit 5,298 units.
Although the market was ripe for new development in 2022, many of these contractors faced lingering issues from the COVID-19 pandemic.
"Before COVID hit, it was mostly labor," Padgett said. "When COVID hit, it switched to materials challenges, and lately it seems to be getting a lot better. We are coming out on the back end of material delays. Challenges are less than they used to be by far, but labor and materials will always exist to one degree or another in our industry."
Seven builders appeared on NMHC's list that weren't on the list last year. They included:
No. 11 Irving, Texas–based JPI started 5,051 units.

No. 13 Charlotte-based Quarterra Multifamily (formerly Lennar Multifamily) started 4,340 units.

No. 14 Winter Park, Florida–based Hillpointe started 3,814 units.

No. 20 Dallas-based Trinsic Residential Group started 3,192 units.

No. 22 Delray Beach, Florida–based Kaufman Lynn Construction started 3,013 units.

No. 24 Vancouver, Washington–based Holland Partner Group started 2,968 units.

No. 25 Galaxy Builders Ltd. started 2,947 starts.
In all, only 25% of the companies on the Top 25 saw starts decline in a strong year when starts increased 15.4%. Most observers expect new construction to slow this year. Still, permits, an indicator of new starts, increased 10.3% to 627,200 in 2022, according to the U.S. Census Bureau.
"We do expect a leveling out this year of new starts due to the financial markets; however, this is likely very temporary in the long run," Padgett said. "Multifamily development typically fares well in times of economic downturn. This is where opportunity exists to find the most efficient solutions in architectural design, material selection and value engineering with the right general contractor."