Truss Designer Wins Award for Innovative Attic Truss System
Date posted
September 12, 2023
Originally Published by: Trussed Rafter Association — August 29, 2023
SBCA appreciates your input; please email us if you have any comments or corrections to this article.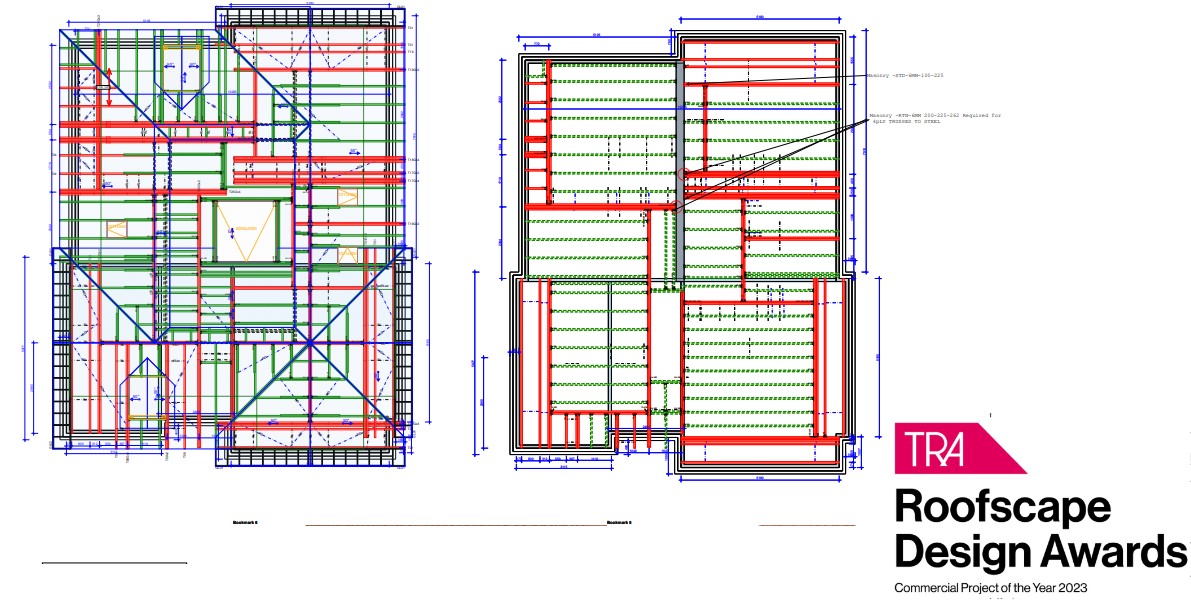 Timber engineering often comes into its own on projects where the cost and environmental impacts of steel are too high. So it was when NB Contracts approached DWB Anglia with a project where the client needed a large, open habitable roof space without vertical posts or large steel structures.
Gemma Weston, DWB Anglia's truss designer with 20 years of experience, was tasked with designing a roof that would avoid using cranked steelwork and maximise the attic space.
Her solution showcases how expert technical knowledge and creativity can be used to solve a problem and highlights the importance of understanding the client's requirements and objectives. This project won her the Residential Project of the Year in the 2023 TRA Roofscape Design Awards.
Combining truss solutions to create an open space
DWB Timber Engineering supplies quality-assured and PEFC-certified engineered timber products to architects, contractors, builders and homeowners.
This project in Tiptree, Essex was a private home – a single-storey brick-built building with a ground floor area of 154sq m, with the attic roof forming the second storey. Timber was deemed a more suitable material for the roof structure than steel, both in terms of structural requirements and cost-effectiveness.
Gemma has worked for DWB Anglia for 20 years and has studied construction and quantity surveying. She enjoys being a roof designer and interacting with clients, as it allows her to push the boundaries of roof design.
So given complete freedom in designing this roof, Gemma proposed using only one steel beam, which would be concealed within the attic floor joists. To support the bottom chords of the trusses, she used various Cullen JHI masonry hangers (which were a mixture of RBJHI masonry hangers and M-RTN) hangers), along with a number of load-bearing walls.
The roof featured a tiled finish, and the design involved intersecting gables and a hipped crown top roof overlay, optimising the internal usable space.
The scheme incorporated a combination of cranked special monos with collars and flat-top roof rafters, as well as flat-top attic trusses webbed out within the room verticals to enhance truss strength.
Adjustments to meet client needs

During the design process, the client requested adjustments, such as increasing the size of the roof lantern within the flat roof area and altering doorway positions to suit their desired room layout. These modifications were accommodated while maintaining the overall complex design.
The attic space was used to create four bedrooms, two ensuite bathrooms, and a family bathroom. The entire structure was interconnected to ensure stability. Flat parallel trusses were employed to form ridges in open spaces, supporting loose rafters and raised tie monos.
Once the roof design was finalised, the engineer received all calculations and provided the exact size of the steel required to ensure safety and technical compliance. Minor adjustments were made to ensure seamless integration between the lengths of the steel and other metalwork components.
According to the TRA Roofscape Design Awards judges, Gemma's design was "a solution that utilised all of the designer's know-how and systems software features to create a habitable roof space to exceed the client's requirements. A great residential project showing the potential of attic trusses. Complex and challenging design with raised collars, a flat roof section and minimal internal support."
Gemma said: "I enjoyed working on this project, as it allowed me to use a variety of methods and experience to help the client achieve what they wanted.
"Winning the award meant a lot to me as it provided recognition for my years of designing complex roofs.
"I would encourage anyone to become a roof designer. I am a woman in a male-dominated industry, but this is the best career move that I have made. The attention to detail that can be required in this job requires someone with design flare and who is not to be afraid to give things a try."