Structural Building Components of the Carolinas
You can gain invaluable information networking with your local chapter.
Network with your peers
Join the conversation on the future of the structural building components industry. From the sharing of ideas at the local level to bringing these idea together at the national level, members serve as the catalyst for a strong, unified, prosperous industry helping to shape it's future.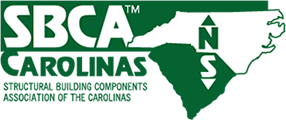 The Structural Building Components Association of the Carolinas (SBCAC) was formed to support members of the structural building component industry in North Carolina and South Carolina. SBCAC welcomes anyone interested in our industry to join us for conversation, networking, and problem-solving.
SBCAC is proud to be a part of the structural building components industry and promote activities that will enhance the technical and economic progress of the industry. We are pleased to work with code and governing bodies, authorities involved with standards development, and industry-related associations to increase the understanding and sound use of components. We are a local chapter of the Structural Building Components Association (SBCA).
Please contact us if you would like to attend an upcoming meeting or have any questions.
The video below explains how building components offer the most efficient structural framing solutions and how they've made a difference in communities across the country, allowing for the most effective use of time, labor, and materials to frame all types of structures. Our chapter continues to explore ways to attract people to careers in the industry and educate the marketplace to achieve ongoing success.
For additional information on building with structural components, visit SBCA's Best Way to Frame website.
Prescriptive Tables
Selection of support elements for use with structures subject to roof snow loads. The tables are based on, and intended for use with, the 2018 North Carolina Residential Code.
2012 NC Residential Code
The NC Building Inspectors Association has developed a brochure on the new energy requirements of the 2012 NC Residential Code. This includes sections for Climate Zone 3, Climate Zone 4 and Climate Zone 5. If you have any questions, please contact SBCA staff.