FrameTec Announces 110K Manufacturing Facility in Arizona
Date posted
December 6, 2022
Originally Published by: AZ Big Media — December 5, 2022
SBCA appreciates your input; please email us if you have any comments or corrections to this article.
FrameTec, a manufacturer and framing services company, announced it has commenced construction of its roof and floor truss and wall panel manufacturing facility in Camp Verde, Arizona. The 110,000-square-foot facility is expected to be fully operational by spring 2024, creating over 180 new jobs. FrameTec plans to expand its presence, building dozens of additional facilities across the U.S. in the coming years.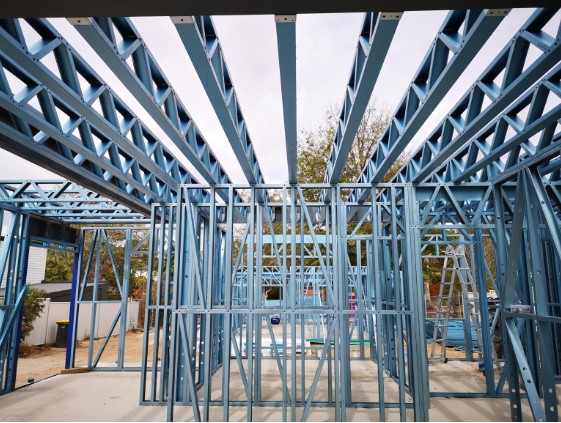 Representing a $40 million investment, the new facility is FrameTec's first manufacturing facility in the U.S., with features including automated manufacturing processes to produce roof and floor trusses, and exterior and interior wall panels for the framing construction of single-family residential homes, multi-family residential, hotels, and other commercial buildings. The manufacturing process will include a finger jointer process to drastically reduce waste and material supply shortages typically associated with the truss industry. The Camp Verde facility will serve as FrameTec's U.S. corporate headquarters.
"We couldn't possibly be more excited about the start of construction of our first facility," said Kyle Brock, Co-Founder and a Principal of FrameTec. "The most exciting aspect of FrameTec is that we are bringing solutions to the construction industry. Due to the design of our automated machinery in the plant, and our field framing services, there will be no other facility of its kind in the United States. FrameTec will help solve current but long standing issues associated with the building construction industry by providing supply chain and labor shortage solutions to homebuilders and commercial developers. The Town of Camp Verde has welcomed us with open arms, and we are extremely thankful to be able to give back to the community where our founders and families live by bringing FrameTec to the Verde Valley for our initial operations, creating new, good paying jobs and bringing revenue to the local community."
At full operations, FrameTec will have the capacity to fabricate the materials and frame the equivalent of 3,000 homes per year based on a 2,000-square-foot home. Each plant will have the capability of providing framing services over a 200-mile radius. The initial plant in Camp Verde, due to its central location in Arizona, will serve the Verde Valley, Prescott, Phoenix, Flagstaff, Williams, and communities in between. In addition, the Camp Verde plant will be fully powered by renewable energy.
"FrameTec's new facility and U.S. headquarters showcases Arizona's attractiveness for innovative, advanced manufacturing operations," said Sandra Watson, President and CEO of the Arizona Commerce Authority. "With a focus on sustainability, FrameTec's Camp Verde facility will strengthen Yavapai County's manufacturing industry and create skilled jobs throughout the community."
"Our community, elected officials and town staff, have worked diligently to position Camp Verde as a hub for manufacturing in central Arizona," said Camp Verde Mayor Dee Jenkins. "I am delighted in FrameTec's decision to locate their first U.S. manufacturing facility and Corporate Headquarters in Camp Verde. Bringing outstanding new businesses to the area is a vision many have shared and worked on for over a decade. FrameTec embodies everything Camp Verde and the greater Verde Valley values; good paying jobs, innovative management and companies that believe in the concept of community partnership."
FrameTec's announcement showcases Arizona's rapid manufacturing growth. In the past few years, top companies have selected Arizona for advanced manufacturing facilities including Nestlé in Glendale, Owens Corning in Eloy, CP Technologies in Prescott and PowerPhotonic in Sahuarita.