Hammond Lumber Acquires Brock's Building Materials
Originally Published by: LBM Journal — June 30, 2022
SBCA appreciates your input; please email us if you have any comments or corrections to this article.
Hammond Lumber has acquired Brock's Building Materials, a third-generation, family-owned company located in Rochester, New Hampshire. Hammond is a fourth-generation, family-owned building material retailer established in 1953. With the acquisition, Hammond now has nearly 900 employees and 22 locations across Maine and New Hampshire.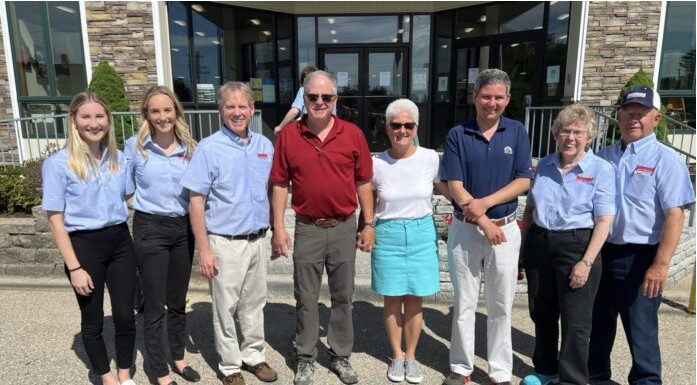 Pictured (from left to right): Bethany Hammond, Marketing; Sadie Hammond, Director of Organizational Development; Mike Hammond, President & CEO; Scott Brock, President of Brock's; Connie Brock, Vice President of Brock's; Evan Brock, Purchasing of Brock's; Mary Hammond; and Don Hammond, Executive Vice President.
"We are incredibly excited to welcome the Brock's family and team. Brock's shares many of the same family-owned values as Hammond Lumber Company and both companies are excited for this new growth opportunity. Scott and Connie Brock felt there was great compatibility between Brock's and Hammond Lumber Company as both companies' success has been built on providing exceptional customer service and taking care of their employees and customers," said Mike Hammond, president & CEO of Hammond.
Brock's was established in 1961 by Maurice and Anne Brock. Brock's has served the seacoast and lakes regions of New Hampshire and southern Maine for more than 60 years. Hammond has offered employment to all of Brock's employees and owners, Scott and Connie Brock, will become branch manager and assistant branch manager of Hammond's new Rochester location.
"During the initial phase of integration, our goal is to operate as 'business as usual' for all employees at both companies. We will work collaboratively with the Brock's team with the goal of a seamless integration process for all our employees, customers, and vendors. We expect there to be minimal changes to day-to-day operations for both companies and a continued focus on exceptional customer service," said Mike Hammond, president & CEO of Hammond.
Hammond is the largest lumber and building materials retailer throughout Maine and New Hampshire and the 21st largest LBM dealer in the country according to the 2022 LBM Journal 100. The company has received the 2021 Best Places to Work in Maine award.
Hammond will continue to employ the Brock's employees bringing the total number of Hammond employees to nearly 900. The company's locations include, Auburn, Bangor, Bar Harbor, Belfast, Belgrade, Blue Hill, Boothbay Harbor, Brunswick, Bucksport, Calais, Camden, Cherryfield, Ellsworth, Damariscotta, Fairfield, Farmington, Greenville, Machias, Portland, Rochester (NH), Rockland and Skowhegan.
Based in Belgrade, Hammond has been a family-owned and operated company since 1953. The family legacy continues to grow. Members of the Hammond family who are active in the day-to-day operations include Executive Vice President Don Hammond; his son, Mike Hammond, president and CEO; and most recently, Mike's daughters Sadie Hammond and Bethany Hammond, fourth generation of the family business.
Anchor Peabody was the exclusive financial advisor to Hammond in the transaction. Terms of the deal were not disclosed.