Mead Lumber Acquires Teague Lumber Company
Date posted
November 8, 2022
Originally Published by: Mead Lumber — November 1, 2022
SBCA appreciates your input; please email us if you have any comments or corrections to this article.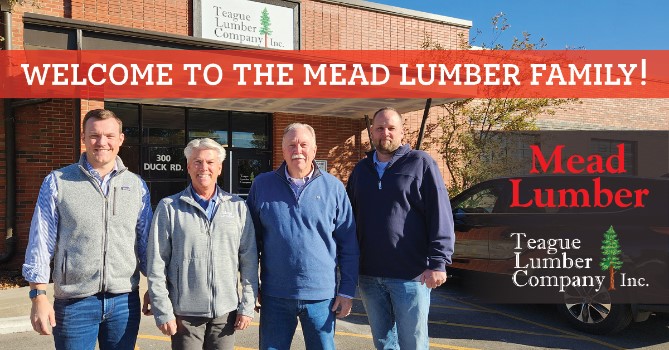 From left to right: Matthew Margritier (Teague Lumber - Controller), Dave Anderson (President and CEO of Mead Lumber), Don Margritier (Owner of Teague Lumber), and Ron Avery (Kansas City Market Manager for Mead Lumber)
Teague began operations in 2002, and has grown to be the #2 market leader in the Kansas City area. With four locations within the KC area, Mead Lumber expands a considerable footprint into the Kansas City market.
"Teague truly fits our culture and core values." said Dave Anderson, President and CEO of Mead Lumber. "This is a very exciting opportunity for our Company, our employee owners and for the employees of Teague. Teague truly fits our culture and core values, and I am excited to add an additional 125 dedicated employees to our team."

Click Here to Download the Full Mead Lumber Press Release