Supply Chain Condemns Move to Raise Lumber Tariffs
Date posted
December 7, 2021
Originally Published by: Builder Online — November 29, 2021
SBCA appreciates your input; please email us if you have any comments or corrections to this article.
The National Association of Home Builders (NAHB) and National Lumber and Building Materials Dealers Association (NLBMDA) both issued statements opposing the U.S. Department of Commerce's decision to move forward with its next administrative review on lumber tariffs. The Department of Commerce is considering doubling countervailing and antidumping duties on Canadian softwood lumber imports from 9% to 17.9%.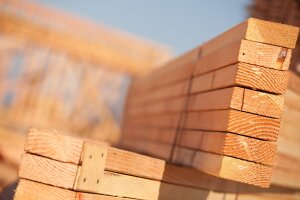 The NAHB called the decision a "blow to housing affordability," while the NLBMDA "strongly condemned" the decision by the Department of Commerce.
"With the nation in the midst of a housing affordability crisis, the Biden administration has moved to slap a huge, unwanted tax hike on American home buyers and renters by doubling the tariffs on Canadian lumber shipments into the U.S.," NAHB chairman Chuck Fowke said in a statement issued by the NAHB. "This is the worst time to add needless housing costs onto the backs of hardworking American families. Home builders are grappling with lumber and other building material supply chain bottlenecks that are raising construction costs."
NLBMDA president and CEO Jonathan Paine said it is the "wrong time to impose a new tax on American consumers and small businesses" given the overall economy's current struggles with supply chain disruptions and price volatility. Paine echoed the sentiments of Fowke and the NAHB that the tariffs would "only exacerbate the nation's affordable housing shortage" and said the new tariffs would "amplify existing challenges facing lumber and building material dealers."
"The decision is even more troubling given that it directly contradicts the administration's previous efforts to address supply chain disruptions, such as lifting tariffs on European steel and aluminum," Paine said in a statement issued by the NLBMDA. "NLBMDA strongly urges the Biden administration to pursue a permanent trade agreement with Canada that eliminates tariffs and brings long-term stability to the supply and pricing of softwood lumber."
Fowke said the decision undermines funding commitments made to housing in the Build Back Better legislation and "erodes efforts" by Commerce Secretary Gina Raimondo and other Biden administration officials to tackle the supply issues facing the construction industry. Fowke urged the White House to engage with Canadian partners on a long-term solution that will end tariffs and help restore lumber price stability.
"Doubling the tariffs will only exacerbate market volatility, put upward pressure on lumber prices, and make housing more expensive," Fowke said.
Addressing lumber price volatility and continued supply chain disruptions have been top legislative issues for both the NAHB and the NLBMDA over the past two years, particularly as lumber prices reached record-high levels during the summer of 2021. Both associations previously suggested in meetings with and letters submitted to the Biden administration that price volatility and supply chain disruptions and bottlenecks would likely be compounded should the U.S. be unable to reach a new softwood lumber agreement.