Tips for Hiring Women in Construction Trades
Date posted
November 24, 2021
Originally Published by: NAHB — November 22, 2021
SBCA appreciates your input; please email us if you have any comments or corrections to this article.
Construction is an industry with the lowest percentage of gender diversity in the workforce. According to an NAHB analysis, women make up 10.9% of the construction workforce. The number of women working in construction is on the rise and it couldn't be growing at a better time. Hiring female workers could help lessen labor shortages.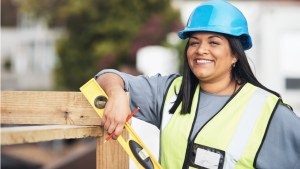 Patricia Urtecho and Tara LeDuc, Senior Risk Management Consultants at Builders Mutual, provide answers to pressing questions about how to encourage women to join the construction industry.
Q: I don't have any women on my team, but I'm interested in making an effort to hire women. What roles do women typically seek?
A: With safety and skills training given to everyone on a jobsite, women can learn to do any role. It is important to point out that physical strength is not a deal-breaking limitation when it comes to employment opportunities in the industry. Male or female, workers should be using appropriate lifting equipment to prevent injury and ease loads.
By nature, women are innovative and detail-oriented. We most often see women filling roles in painting and finishing work, as well as on the final cleanup crew. More recently, we've begun to notice women on jobsites as equipment operators driving and controlling construction equipment like bulldozers, forklifts, backhoes, and dump trucks. These are higher-paying roles, and it is great to see this becoming more common.
Q: Before hiring a woman, do I need to make any changes to my jobsite? What does OSHA say about women in construction?
A: All workers have a right to a safe workplace, and the Occupational Safety and Health Administration (OSHA) provides information, training, and assistance for workers and employers. While general contractors should be responsible for enforcing all mandates, we also encourage tradeswomen to familiarize themselves with the OSHA standards that impact their well-being to ensure the standards are being correctly followed on their jobsites.
OSHA also addresses sanitation on the jobsite. One toilet (not including urinals) is required for every 20 workers. We always appreciate when we visit a jobsite and the portable toilets are designated for men and for women to ensure each gender has clean and available facilities. We've seen some jobsites that lock the women's portable toilet and provide keys.
Q: My jobsite is all male, and I have concerns about bringing a woman onto my team. What can I do to shape my company's culture so that everyone feels comfortable at work?
A: Men are responsible for their own behavior on the jobsite. Women should not be penalized or kept from a career in construction because of men behaving badly. As a GC, it is your job to set clear expectations and consequences for harassment.
Behavior training can set the tone for jobsite culture and show that you are serious about the issue. Both men and women play a role in creating a safe work environment, so invite everyone on your team to these trainings.
Bystander training explains what other team members can do if they witness harassment occurring on the jobsite. Encourage everyone to be your eyes and ears when you aren't around.
Q: What else can I do to open my jobsite to potential female employees?
A: Your opportunity to open your jobsite to female employees begins during the hiring process. It is important to remember that in a male-dominated industry, just getting hired can be difficult for a woman. Be cognizant that men are more likely to hire fellow men, and ensure that you are giving equal opportunity to female candidates. Your company will benefit from employing a more diverse workforce.