Top 10 Multifamily Metros Account for 40% of Volume
Originally Published by: Multifamily Dive — March 27, 2023
SBCA appreciates your input; please email us if you have any comments or corrections to this article.
Dive Brief:
The New York City metropolitan area finished as the top market for commercial and multifamily starts in 2022 at $37.1 billion, an increase of 37% from 2021, according to a recent Dodge Construction Network report.
The Dallas metropolitan area placed second, reaching $16.7 billion in 2022, a 51% jump from 2021, while the Washington, D.C. metro area ranked third during 2022 with $11.4 billion in starts, a 38% gain over 2021, according to Dodge.
"2022 will go down as a banner year for construction starts," said Richard Branch, chief economist for Dodge Construction Network. "Even when adjusted for inflation, commercial and multifamily starts were impressive as construction activity began to move back toward downturn urban cores."
Dive Insight:
The top 10 metropolitan areas accounted for 40% of all commercial and multifamily starts in the U.S., up from 37% in 2021, according to the report. Commercial and multifamily starts consist of office, stores, hotels, warehouses, commercial garages and multifamily housing.
Increased demand for data centers and retail projects largely fueled growth on the commercial side. Meanwhile, strong demand for apartments and condos boosted start activity in the multifamily sector, according to Dodge.
Below are the top 10 metropolitan areas in 2022 for commercial and multifamily construction starts, according to Dodge: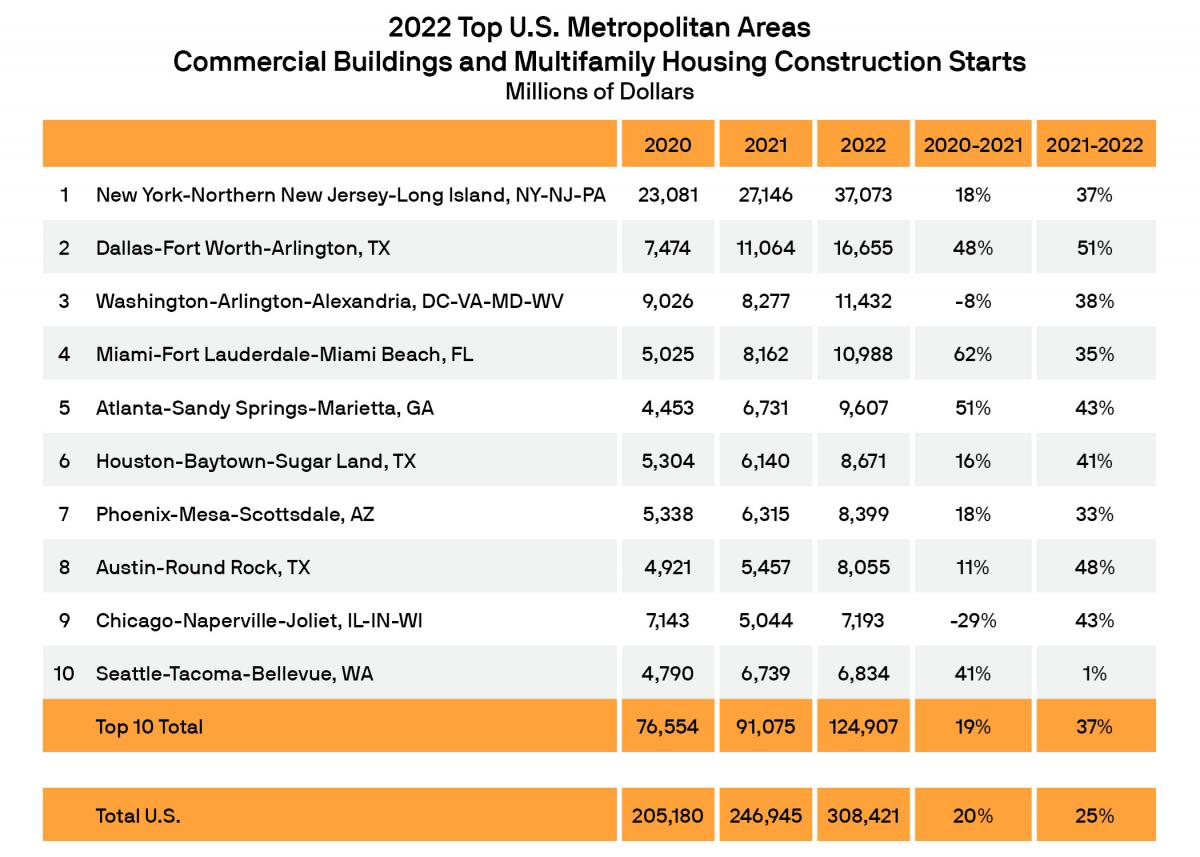 Looking forward, though, Branch does not expect that rate of growth to continue over the next 12 months.
"This pace of activity, however, is unlikely to be sustained in 2023 as the economy is slated to slow and approach stall speed," said Branch. "Commercial and multifamily construction starts are likely to take this on the chin and post declines for the year."
Indeed, a recession in the housing market is already underway. National Association of Home Builder's chief economist Rob Dietz said this week at the International Builders' Show in Las Vegas he expects the sector's malaise to spread to the rest of the economy.
"We've never had a period where home prices have declined and there has not been a recession," he said. "I think the rest of the economy will feel it in 2023 via slowing economic output and rising job losses."