US LBM to Acquire 40 Locations in TX and OK
Originally Published by: HBS Dealer — May 3, 2021
SBCA appreciates your input; please email us if you have any comments or corrections to this article.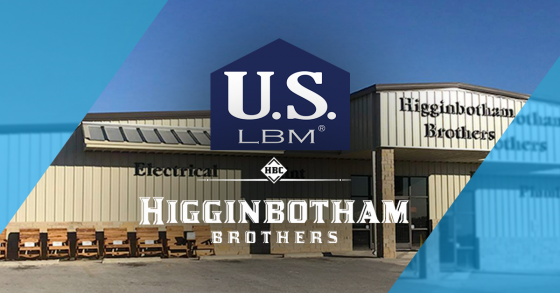 US LBM reported that it is acquiring Higginbotham Brothers, the building products dealer with 40 locations in Texas and Oklahoma.
Following this deal, US LBM said it will operate more than 320 locations nationwide. Financial terms of the acquisition have not been disclosed.
Higginbotham Brothers was founded in 1881, when the company opened its first general store in Texas. Today, the dealer supplies professional builders, remodelers, and DIYers with lumber and a deep catalog of specialty building products, including hardware, windows, doors, and plumbing materials, along with interior and exterior paint.
Corby Biddle will continue to lead Higginbotham Brothers' day-to-day operations as president and general manager, US LBM said.
"Both Higginbotham Brothers and US LBM are about putting people first, from customers, to employees, to our local communities," said Biddle. "We're excited to join US LBM and for the benefits this partnership will bring, such as new tools and training for our employees and access to a wider range of specialty building products and manufacturers for our customers."
In the fourth quarter of 2020, Higginbotham opened its 40th location in Liberty Hill, Texas.
"Higginbotham Brothers is focused on building relationships and providing customers with the best products, service, and knowledge, making them a perfect fit for us," said US LBM President and CEO L.T. Gibson. "This acquisition expands our network into Oklahoma, and with nearly 60 locations between Higginbotham Brothers and Parker's Building Supply, US LBM now has a significant presence across the rapidly growing Texas construction market."
Earlier this year, US LBM acquired Gilchrest/Jewett with five locations Iowa.
Founded in 2009, US LBM has grown to become one of the nation's largest building material distributors and suppliers. The company is based in Buffalo Grove, Ill.