$65M OKC Apartments Under Construction Destroyed by Fire
Date posted
February 23, 2022
Originally Published by: The Oklahoman — February 11, 2022
SBCA appreciates your input; please email us if you have any comments or corrections to this article.
Investigators Thursday were still trying to determine what started the fire that destroyed a $65 million apartment complex near Classen Curve in Oklahoma City.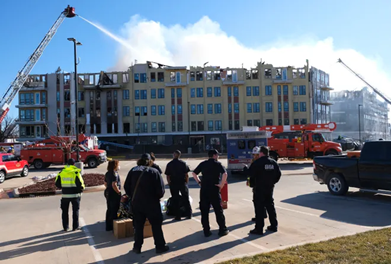 The Canton at Classen Curve, a five-story resort-style apartment building in the 1100 block of NW 63, sat half-demolished Thursday, after a massive fire started overnight Tuesday and had burned away the building's roof and top floors by Wednesday.
Fire crews staged trucks and rotating personnel in nearby parking lots, working with apartment developers, engineers and the Midwest Wrecking demolition company.
Oklahoma City Fire Chief Benny Fulkerson said the building was too structurally unsound to allow firefighters and investigators inside. Because of the compromised nature of the complex and the ongoing process of the demolition, investigators are having to examine building components and materials as they become available.
"It's going to be a lengthy process, with still a lot to be done, but we'll continue to stay here as long as it takes," Fulkerson said.
The apartment demolition was to take place over three days.
Background
Oklahoma City firefighters battled a large commercial fire at NW 63 and Western Tuesday night and into Wednesday.
OKCFD Chief Benny Fulkerson said the structure was a large under-construction apartment complex. The top floors of the Canton apartment complex could be seen burning in Twitter posts.
Portions of the building's top floors could be seen collapsing onto the ground below and near construction equipment.
The fire was still burning as of 9 a.m. Wednesday morning, and fire crews expected they would be working the fire the rest of the day.
"The problem is, we're just not able to get inside and commit crews to the interior because it's structurally unsound," Fulkerson said. "There's a bunch of the deep-seated fire and hotspots that we just can't access, so ... it's just going to be a long drawn-out effort to try to get everything completely distinguished."