84 Lumber Celebrates Women in Construction Week, Mar 5-11
Originally Published by: 84 Lumber — March 2, 2023
SBCA appreciates your input; please email us if you have any comments or corrections to this article.
84 Lumber is proud to celebrate Women in Construction Week, March 5-11, and is among the growing number of companies eager to raise awareness regarding the opportunities available to everyone in the construction industry and also to emphasize the growing role of women in the industry.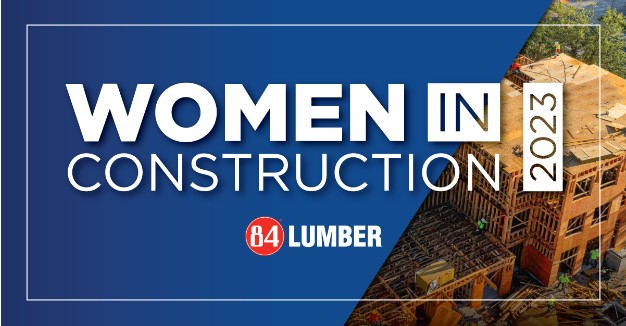 "Now is the perfect time for women to consider a career in construction," said 84 Lumber Owner and President Maggie Hardy. "The construction industry needs more qualified individuals to keep up with the growing demand. There are many different paths to starting a career in construction."
84 Lumber is a certified National Women's Business Enterprise and the largest privately owned building materials supplier in the U.S. "We love to share Maggie's story about how she transformed our company, positioning us for the future," said Vice President of Marketing Amy Smiley.
Hardy sees the opportunities and bright future that the construction industry holds for people seeking a better career path and future. This is something she works hard to instill in her associates, vendors, and partners alike.
"Building a culture that nurtures the talents of younger workers and seasoned associates, to put them on the track of success, is one of the most important things to retain talent," said Hardy. "If you're seeking a career transition, whether from the hospitality industry, the military, or something else, our company doesn't require any prior experience. We can train you on everything you need to know, and our 'promote from within' culture provides growth opportunities that can't be found elsewhere."
An example of shaping the future of 84 Lumber's business is the company's most recent social media campaign, which, according to Smiley, is designed to recruit and celebrate opportunities for new recruits to the construction industry. Her team launched a TikTok channel, where it shares video content of associates, customers, and industry influencers, to amplify the positive side of working in the industry.
"That's where you're reaching that next generation of potential associates. That's where they're spending a lot of their time, and they're seeing 84 Lumber's name pop up and see that brand recognition," Smiley said. "While our customers may not actively be on TikTok, the future of the company is on there."
In addition to a month-long social media campaign highlighting associates and career opportunities at 84 Lumber, the company is supporting the third annual EmpowerHER Grant. Through the EmpowerHER Grant, 84 Lumber and the Pittsburgh Penguins are working together to highlight local Pittsburgh-area women-owned businesses. One winning business will receive a $25,000 grant to support her business. The EmpowerHER Grant is part of 84 Lumber's L.I.F.T. (Leading & Inspiring Females to Thrive) program with the Pittsburgh Penguins. Voting is now open and will run until March 6th. https://tradablebits.com/tb_app/481343
Why should women be getting into the construction industry?
"At 84 Lumber, there's room for every associate to succeed. It's a culture that creates an environment where you work hard, care, and check your ego at the door. You can do anything you want in this company," said Smiley.
As a female leader of the company, Hardy supports her associates every day. "We have lots of great stories. Here, the sky's the limit," she said.
Many women in the field didn't consider construction as a vehicle for career success but have since changed their minds, like Amherst, NY, store co-manager Shannon LaMonte. "I come from a family of contractors," explained LaMonte. "But I never thought to pursue a career in construction, mostly because it was intimidating. 84 Lumber has given me all the tools to be successful in something I've always wanted to be part of."
Others started in one aspect of the business, only to learn there were more opportunities outside traditional roles. "At 18, I began working for a lumber yard as a cashier. I found the atmosphere energetic and exciting," recalled Niki Flynn, now in outside sales. "I started at 84 Lumber 17 years ago as a coordinator and drove myself to learn all aspects of the company."
"Women in the industry encourage others to try something new — because you may be surprised at your own abilities," said Plant Manager Polly Jean (PJ) Miller. "84 Lumber allowed me to expand my knowledge with multiple positions. Don't be intimidated by work in the construction field. If it's something that truly interests you, don't be scared to step up and learn."
Said Casey Lemoi, Install Manager, "if you are considering a career in the construction industry, make sure you like a challenge and the ability to learn every day. Always ask too many questions to clarify. Change needs to be in your daily vocabulary because things are constantly changing in all parts of the industry from codes to product knowledge. Construction is a great industry for those who like to see a physical outcome from all their hard work."
To learn more about 84 Lumber and to follow along this month, visit the company on Facebook, Instagram or LinkedIn. 84 Lumber is hiring new associates in stores and manufacturing facilities nationwide. Visit 84Lumber.com/careers to apply and learn more about the company.