84 Lumber Founder, Joe Hardy, Passes on 100th Birthday
Date posted
January 10, 2023
Originally Published by: Beinhauer — January 8, 2023
SBCA appreciates your input; please email us if you have any comments or corrections to this article.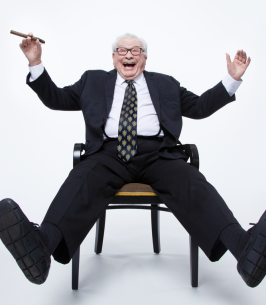 From the beginning to the end of his life, Joseph A. Hardy III was truly a man who did it all. A son, brother, husband, father, uncle, grandfather, great-grandfather, veteran, student, graduate, pilot, gemologist, salesman, entrepreneur, commissioner, philanthropist, and super-human that embodied his favorite phrase and philosophy "nothing is impossible."
In true Hardy fashion, Joe passed away with his cigar in his hand, surrounded by his loving family singing Broadway show tunes to comfort him at his home in Farmington, PA. He was 100 years young.
Joseph Alexander Hardy was born January 7, 1923 in Pittsburgh, a son of Norman and Katherine Hardy.
Hardy attended Mt. Lebanon High School, Shadyside Academy, and Lehigh University. During his final year at Lehigh University, Joe enlisted in the U.S. Army Air Corps and served as a radioman during World War II.
In 1946, a young Joe Hardy began working for his father in the family-owned jewelry store, Hardy & Hayes. He attended the University of Pittsburgh as a part-time student during the four years he worked there and earned a degree in Industrial Engineering. It was during his time at Hardy & Hayes that Joe Hardy hit his stride as a natural salesman. He was, in fact, so good that his uncle scolded him for being too aggressive in achieving record-breaking sales. So, he knew it was time to do something on his own.
With childhood friend Ed Ryan, of Ryan Homes fame, and brothers Norman and Bob, Mr. Hardy started Green Hills Lumber in a vacant basement. This business would grow and eventually become 84 Lumber, named after the town where it was headquartered. Under Hardy's leadership and tireless work ethic, 84 Lumber expanded and became the largest privately owned building materials supplier in the world, with stores in 30 states and currently employing more than 6,000 associates.
Hardy's meteoric ascent in the business world garnered attention and accolades. In 1985, he was named by the Forbes 400 as one of the wealthiest people in the world, and was subsequently named in following years, as well. He was elected by Venture Magazine as Entrepreneur of the Year in 1987. Hardy also earned an honorary Doctor of Laws degree from Washington & Jefferson College for his outstanding achievements. The University of Pittsburgh elected him to the board of trustees in 1989.
Though Hardy secured his place as a business tycoon and self-made success story by the 1980s, he wasn't done building. And not only was he not done, Hardy was just getting started.
In 1987, Mr. Hardy purchased the land that would eventually become the site of Nemacolin Resort in Farmington, PA. Hardy dove into the hospitality business with same zeal as he did with lumber, and with the same goal: to be the best.
Hardy expanded the former hunting lodge that was on the property and continually developed the property into a 2,800-acre AAA Four Diamond world-class resort, including the AAA Five Diamond Falling Rock hotel and Pete-Dye designed Mystic Rock golf course. Hardy brought the PGA Tour as Nemacolin was the site of the 84 Lumber Classic for four years. Numerous celebrities also performed at Nemacolin for Hardy's celebrations including Robin Williams, Lionel Richie, Christina Aguilera, and Bette Midler.
In 2017, Hardy founded the real estate development firm, Hardy World, LLC. In true Hardy form, the development firm since its inception has not looked back and has completed several projects in eight states across the United States. Its focus has been on the development of urban infill projects and industrial properties.
As successful as Hardy became, he still kept to his Western Pennsylvania roots. Hardy was a partner in the meadows Racetrack in Meadowlands, PA for ten years. He also served as vice chairman for Fayette County board of commissioners to help the community. "If I was 40 years younger, I might run for president," he once remarked. His leadership was also critical to a multi-million dollar renovation in Uniontown, PA. He gave sixty million dollars of his personal money to revitalize the town because he believes so much in the people of the community. During the holidays, he would anonymously visit retailers and paid the layaways. He made moments magical.
Mr. Hardy was a significant philanthropist for many universities and charitable organizations and has received numerous awards for his philanthropy. He was dedicated to higher education, which enabled many to attend Washington & Jefferson College, California University, and West Virginia University. Some of the other charities he supported were the Boy Scouts of America, The Washington County Food Bank, The Red Cross, Habitat for Humanity, United Way, The Pennsylvania Classic Foundation, and many other causes and charities.
Even after Hardy handed over control of 84 Lumber and Nemacolin Resort to his daughter Maggie Hardy, his vision continued to inspire both businesses.
"My father was always asking, 'What's next?' He wanted to conquer the next challenge or make something even better. He taught us never to be satisfied and push to be better today than we were yesterday. He had an infectious outlook and personality that inspired people. He never missed an opportunity to teach a lesson in business or in life. And he valued his people more than anything."
Condolences and praise for Hardy's life have come from around the country.
"Joe was a true American success story," said Tom Ridge, Former Homeland Security Director and Governor of Pennsylvania. "And he was a true gentleman. He could have demanded to be treated like a tycoon, but instead he wanted to be known as Joe."
Pro Golfer John Daly said, "Joe was a true friend and an amazing person. He brought out the best in everyone, and I'm so lucky I got to know him."
Surviving Hardy are eight children: Joseph A. Hardy IV, of McMurray, Pa.; Paul Hardy of Bel Air, Md.; Robin Hardy Freed of Boca Raton, FL.; Katherine Hardy Drake of Plain City, Ohio; Margaret Hardy of Belle Vernon, PA; Paige Hardy Enriquez of Melbourne, FL and Taylor Hardy of Pittsburgh, PA.; and JJ Hardy of Farmington, PA.
Also surviving him are 15 grandchildren: Alex Hardy, Laura Eichorn, Todd Hardy, Norman Hardy, Steven Hardy, Jennifer Fike, Rebecca Roberto, Meghan Wyatt, Robyn Coady, Sarah McClain, Ben Drake, Devin Drake, and PJ Magerko-Liquorice, Sophia Enriquez and Liam Enriquez as well as 18 great-grandchildren.
Surviving him are his three step sons; Logan Williams of Uniontown, PA, Lloyd Williams of Uniontown, PA, Austin Hardy of Farmington, PA.
Hardy had two brothers, Robert Hardy and Norman Hardy, who are both deceased. Hardy was preceded in death by his first wife, Dottie. He is survived by his second wife, Debbie Maley Hardy, and his current wife, Jodi Hardy.
Family and friends are welcome from 6 to 8 p.m. on Tuesday and 2 to 4 p.m. and 6 to 8 p.m. on Wednesday in BEINHAUER FUNERAL HOME, 2828 Washington Road, McMurray, PA 15317 (724-941-3211). A Public Funeral Service will be held on Thursday at 11 a.m. in Westminster Presbyterian Church followed by full military honors. Interment will be private.
In lieu of flowers, non-family members shall be encouraged to make donations in my name to Habitat for Humanity or The Pennsylvania Classic Foundation.
To send flowers to the family of Joseph A. Hardy III, please visit our Heartfelt Sympathies Store.