BCMC Exceeds Expectations with Strong Participation
Date posted
September 20, 2022
Originally Published by: SBCA Magazine — September 20, 2022
SBCA appreciates your input; please email us if you have any comments or corrections to this article.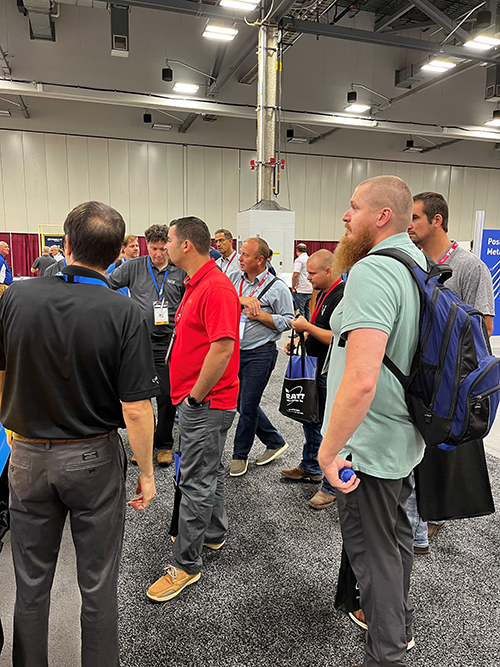 BCMC 2022 descended on Columbus, Ohio, last week and made an indelible mark on the industry. By all accounts, it was the most well-attended show since 2006. Nowhere was it more evident than on the vibrant exhibition floor, where 105 exhibitors filled 58,800 square feet! Valuable conversations and demonstrations were still going strong until the end of the Industry Celebration that closed out the show on Thursday afternoon. The twelve education sessions were full of people and facilitated a strong exchange of ideas.
All of it was nearly eclipsed by the attendance at the kick-off session where 752 people showed up to hear NFL legend Emmitt Smith share what motivated him toward a successful career in football and business. To put this in perspective, more people showed up for his speech than were registered as attendees for BCMC in 2021. The economic forecast also had a very strong showing, with 591 people listening to Zonda's chief economist, Ali Wolf, as she delivered her prognosis for housing over the next 18 months.
To put BCMC 2022 participation in context, here are this year's numbers compared to recent years:
2022

2021

2019

Total Participants
1,967 total participants
(220 registered onsite)
1,306 total participants
1,768 total participants
Attendees
1,216 attendees
742 attendees
1,008 attendees
Exhibitor Personnel
673 exhibitor personnel
496 exhibitor personnel
699 exhibitor personnel
If you missed BCMC this year, make sure to put BCMC 2023 in your calendar today. The show will be held in Indianapolis, Indiana, September 18-22.