Builders Encouraged by Signs of Cooling Inflation
Date posted
April 25, 2023
Originally Published by: NAHB — April 20, 2023
SBCA appreciates your input; please email us if you have any comments or corrections to this article.
Data continue to show easing inflation, although certainly not at the rate the Federal Reserve and markets would wish. Nonetheless, signs suggest the Fed is near the end of its tightening cycle, which in turn sets the single-family sector on the path toward a rebound later this year and an outright calendar year increase in 2024.
Consumer prices in March saw the smallest year-over-year gain since May 2021, decelerating for the ninth consecutive month. While the shelter index (housing inflation) experienced its smallest monthly gain since November 2022, it continued to be the largest contributor (60%) of the total increase, less food and energy. Overall inflation was up 5% year over year in March, while shelter inflation was up 8.2%.
The Fed's ability to address rising housing costs is limited, as shelter cost increases are driven by a lack of affordable supply and increasing development costs. Additional housing supply is the primary solution to tame housing inflation. The Fed's tools for promoting housing supply are at best limited. In fact, further tightening of monetary policy will hurt housing supply by increasing the cost of AD&C financing. Nonetheless, the NAHB forecast expects to see shelter costs decline later in 2023.
Building material prices, as measured in the Producer Price Index (PPI) data, actually posted a 1% year-over-year decline in March — an indication of an overall slowing economy and an important leading indicator of where shelter prices are headed. That said, some items like electrical transformers remain a challenge for builders. As the shortage of distribution transformers continues, the PPI for power and distribution transformers increased 2% in March. Prices have surged 63.9% over the past two years and declined in just two months during that span. (See chart below.)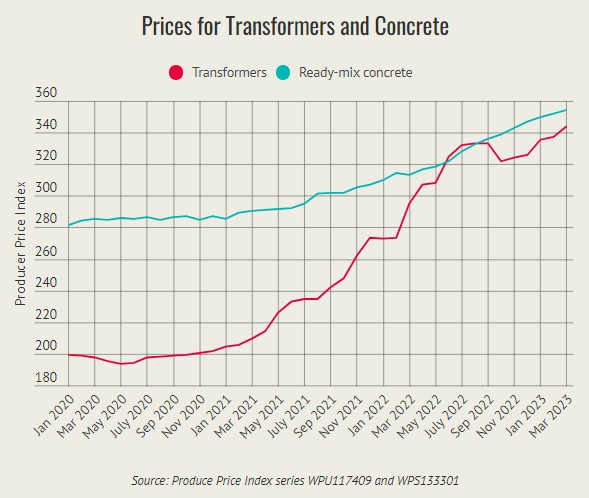 Builders remained cautiously optimistic in April, as limited resale inventory helped to increase demand in the new home market. Single-family builder confidence in April rose one point to 45, according to the NAHB/Wells Fargo Housing Market Index. Currently, one-third of housing inventory is new construction, compared to historical norms of around 10%. More buyers looking at new homes, along with the use of sales incentives, have supported new home sales since the start of 2023. Builders note that additional declines in mortgage rates (to below 6%) will further boost demand.