Carter Lumber Announces $8.1M Truss Plant Investment
Date posted
February 7, 2023
Originally Published by: LBM Journal — January 30, 2023
SBCA appreciates your input; please email us if you have any comments or corrections to this article.
Carter Lumber continues to rebuild its presence in Bowling Green with an $8.1 million investment. The new construction is part of the company's rebuilding efforts following the devastating tornadoes that impacted much of Western Kentucky in December 2021.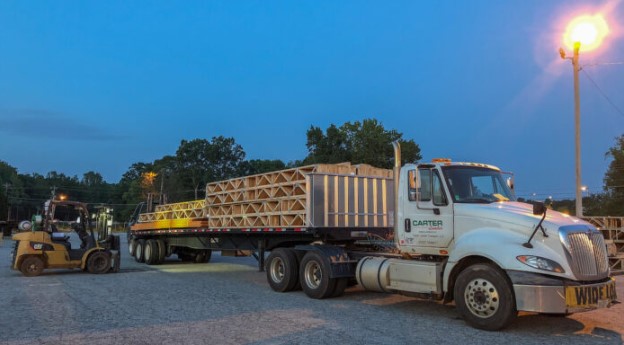 Carter Lumber
The location in Bowling Green had housed a component manufacturing facility as well as a door-hanging and millwork facility. It was Carter Lumber's newest, most technologically advanced and most expensive manufacturing facility. It was open for just shy of three years before tornados destroyed half the component plant and completely wiped out the door and millwork building.
The new location will allow for added manufacturing capabilities of roof and floor trusses, wall panels and carry engineered wood products. The company's door and mill building will be upgraded with a larger, 1,200-amp electrical service and an additional 22-foot-wide warehouse door to go along with an added concrete approach driveway. At the truss building, 16,800 square feet of additional concrete will be added along with two new 18-foot warehouse doors as well as new openings for exit and feed rollers for improved truss production. The new facility is located in the Kentucky Transpark.
"Kentucky is home to some of the strongest and most resilient people anywhere," said Gov. Beshear. "While we are still healing from the damage of the 2021 tornadoes, we are building back stronger than ever. This commitment from Carter Lumber to not just rebuild, but to expand their business under these circumstances is a testament to the spirit of the commonwealth and what makes Kentucky so special. I am looking forward to Carter Lumber's continued success in Bowling Green."
"We are proud to be a part of the Bowling Green community and are committed to helping it recover and thrive," said Jeff Donley, president of Carter Lumber. "This new facility is just one way we can contribute to the rebuilding efforts and ensure the growth of our Carter Lumber operations and the many builders we service in the area to rebuild stronger and better than before."
Founded in 1932 in Akron, Ohio, private and family-owned Carter Lumber primarily services professional builders through its more than 170 locations across 13 states. Carter Lumber operates under four uniquely branded divisions: Carter Lumber, Holmes Lumber Co., Kight Home Center, and Kempsville Building Materials.