Cascade Manufacturing's "Hands-On" Trade Event
Date posted
February 21, 2023
Originally Published by: Cascade Pioneer — February 15, 2023
SBCA appreciates your input; please email us if you have any comments or corrections to this article.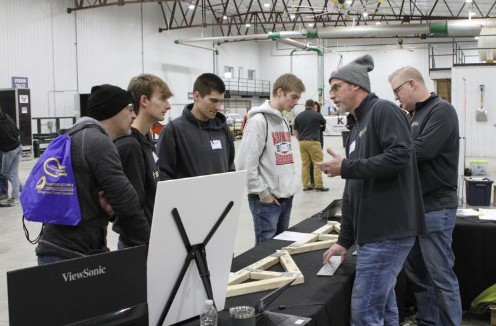 From left, Central Elkader instructor Ryan Bergan and students Caden Erickson, Elliot Kelly and Dan McGreal visit with Cascade Manufacturing plant manager Adam Ruley and designer Bret Hardersen. Mike Putz • Staff Photo
A Cascade business was among a large contingency of companies represented at a High Demand Skilled Trades event for area high school students, Feb. 7, in Edgewood.
Cascade Manufacturing Company took part in the event that brought 10 area high schools to not only talk with employers in the skilled trades but also to try their hand at something they could find themselves doing if they were employed by that company.
Students could make and cook their own bratwursts at the Edgewood Locker booth, do some virtual welding at the Henderson Products booth, or run an excavator at a construction equipment operator mobile simulator.
Held at Kendrick Forest Products, the event was sponsored by Northeast Iowa Community College (NICC) and Delaware County Economic Development.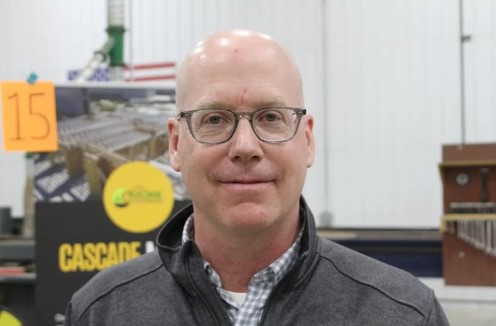 Will Noonan
Mike Putz • Staff Photo
NICC Manchester Center Director Jodi Ehlers said the event was an offshoot of a similar event held in Decorah in past years.
"Our schools in the south part of the NICC area needed something closer," she said. "Fortunately, Kendrick Forest Products has a building big enough and were willing to share it with us."
Ehlers said 17 businesses set up booths, with the stipulation all needed hands-on activities for students.
"This wasn't just a career fair where students walk around, talk to businesses and pick up a brochure. This had to be a high-demand career, had to be associated with the trades and had to be exploratory."
During a question and answer period at lunch, business representatives agreed they want workers who have positive attitudes, will show up for work and have the interpersonal skills to work with others. All agreed young people have great opportunities working in the high demand, skilled trades.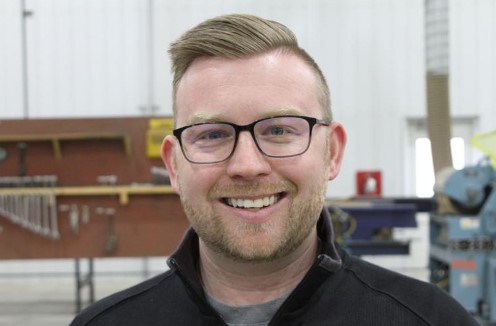 Joe Noonan
Mike Putz • Staff Photo
Will Noonan, human resource manager at Cascade Manufacturing, said the event was an opportunity to tell students about the company.
"We are looking to put ourselves out in front of students at something like this," he said. "We want to basically show them what kind of opportunities are available. The good part about this event is that it is hands-on, so we are explaining some career paths within our company, such as drafting and design, truss production and assembly and becoming a driver."
He went on to say feedback from students was very positive.
"We saw faces light up," he said. "They enjoy the hands-on part of it and learning what kind of opportunities are available within our region and the surrounding communities. I think students are benefitting from this."
Director of Operations, Joe Noonan, said students learned some of what goes into making a truss. "I think people don't always know what goes into it. It's an engineered product. But once you get into the actual manufacturing environment, we have a lot of automation, so there's a lot of working with computerized saws cutting our lumber. The assembling of our trusses has some automated equipment, so this is showing students this isn't something that magically shows up at a job site, that there is a lot that is required from start to finish."
Joe Noonan said the company has hired 16-to-17-year-olds in some limited manufacturing roles. "That has been very successful for us. But also post high school, if someone wants to make a career at Cascade Manufacturing, they absolutely can. There are a lot of opportunities."