Chart: Mortgage Rate Fears Drive New Home Sales
Date posted
February 1, 2022
Originally Published by: NAHB — January 26, 2022
SBCA appreciates your input; please email us if you have any comments or corrections to this article.
New single-family home sales increased in December as housing demand was lifted by buyers accelerating some contract signings due to anticipated higher mortgage interest rates in 2022. However, for the year as a whole, sales ended 7.3% lower than a supercharged 2020, as builders slowed some sales to manage ongoing building material and labor issues affecting the housing industry.
The U.S. Department of Housing and Urban Development and the U.S. Census Bureau estimated sales of newly built, single-family homes in December reached an 811,000 seasonally adjusted annual pace, an 11.9% gain over revised November rate of 725,000. The December 2021 rate is 14.0% below the December 2020 estimate of 943,000, when demand was unsustainably strong due to historically low mortgage rates and a housing-focused covid economic rebound. Nonetheless, the December rates was the strongest since March. As 2022 begins, sales appear to have settled back the post-Great Recession long-run trend.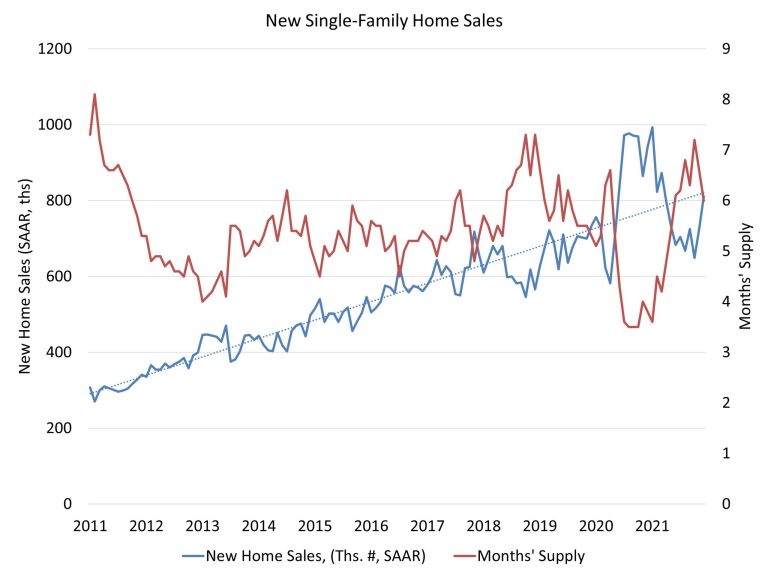 Median sales price fell back in December to $377,700. In December, there was particular strength for sales in the $300,000 to $400,000 range. For the year as a whole, median sales price for 2021 came in at $392,900, a 16.6% gain over the 2020 median of $336,900. Prices have increased as building material and other development costs have increased.
Sales-adjusted inventory levels are at a balanced 6 months' supply in December. The count of completed, ready-to-occupy new homes is just 39,000 homes nationwide. Total inventory (for all stages of construction) increased to 403,000, a 34.8% gain from December 2020.
Inventories levels continue to rise due to several factors. First, construction times have increased, leading to more inventory in the pipeline. Second, inventory has increased with higher demand and lower resale inventory. And finally, the components of inventory continue to adjust. As noted above, there are just 39,000 completed homes in inventory, 9.7% of the total. A year ago, completed homes represented 13.7% of inventory. In contrast, homes not started construction were 22.4% of inventory in December 2020 and increased to 25% in December 2021.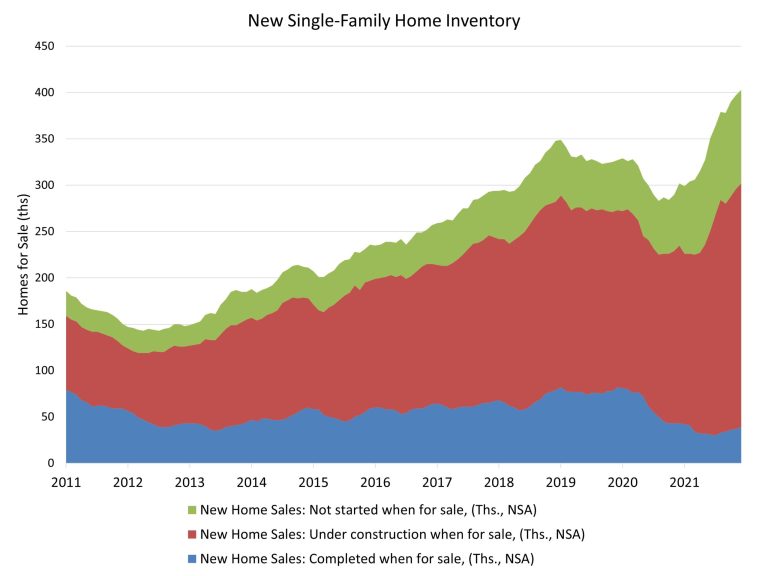 Regionally and for 2021 as whole, new home sales declined in all four regions; 5.8% in the Northeast, 5.9% in the South, 7.6% in the Midwest, and 10.5% in the West.