National Building Performance Coalition Formed
Date posted
February 1, 2022
Originally Published by: Construction Dive — January 25, 2022
SBCA appreciates your input; please email us if you have any comments or corrections to this article.
Dive Brief:
President Joe Biden on Friday announced the launch of a Building Performance Standards Coalition, a partnership between more than 30 city and county governments along with the states of Colorado and Washington. The announcement came during the U.S. Conference of Mayors annual winter meeting.

The administration describes the effort as a "first-of-its-kind partnership" committed to "cleaner, healthier, and more affordable buildings,"

and said participating governments cover nearly 20% of the country's building footprint. The ultimate goal is to advance legislation or regulation in each of those jurisdictions by April 22, 2024.

Unlike many of the future

gas bans or building code changes that have made headlines in recent months and years, developing and enacting

building performance standards

— policies that establish specific energy or emissions performance levels for commercial and multifamily buildings to achieve — can allow cities to influence existing buildings as well.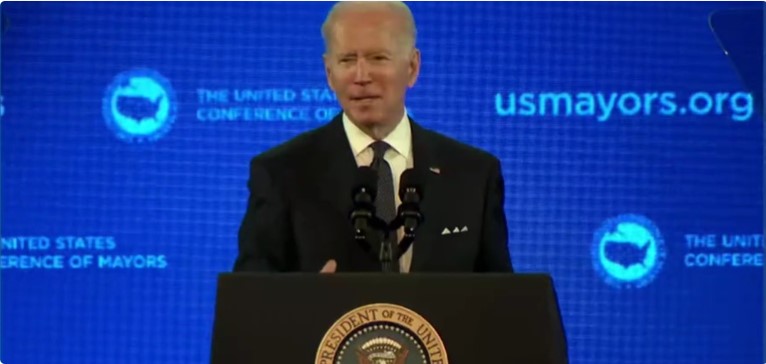 Dive Insight:
In recent years, efforts to decarbonize the building sector, one of the largest sources of emissions in cities, have been a story of driving change from the bottom up.
A wave of California cities in 2019 and 2020 enacted their own ordinances to stop natural gas in new construction, preceding state-level action in 2021 to heavily incentivize electric heat pumps as the default over traditional gas alternatives. Likewise, the most populous U.S. city, New York City, made headlines this past December when the city council voted to ban gas hookups in new buildings. This month, New York Gov. Kathy Hochul proposed the nation's first statewide gas ban for new buildings.
The Building Performance Standards Coalition could build on that momentum and extend it to more parts of the U.S. Many of the participating governments, including Boston, Chicago and Seattle, have already taken some steps on building decarbonization. But different cities, counties and states have varied policy histories, in terms of the types or extent of actions taken so far.
While action on new construction has been key for the building decarbonization movement, affecting change for existing buildings has been a harder challenge for cities to tackle. Building performance standards are an emerging policy tool that local governments can tailor. The EPA notes that these standards can "send market signals to encourage investments in energy efficiency and other clean energy technologies and strategies, such as increased use of renewable energy, energy storage, and electrification."
It's still a somewhat novel approach. Only a small collection of governments have already approved, if not fully implemented, their own building performance standards; that list includes Washington, D.C., St. Louis, Denver and Washington state, all of which are participants in the new coalition.
According to the administration's announcement, participants will benefit from co-creating policy and sharing results. Additionally, U.S. energy and environmental regulators say they will expand technical assistance related to designing, measuring and managing local building performance policies. The coalition also seeks to ensure that standards are developed in communication with frontline communities.
The New Buildings Institute, a nonprofit focused on technologies and policy to decarbonize the built environment, and the U.S. Green Buildings Council were among the building decarbonization supporters that praised the step.
We're thrilled with this new announcement! Successful building performance standards will focus not only on energy and #GHGReductions, but also on complementary support programs and assistance for covered buildings, local workforce, and underserved populations. #ClimateAction https://t.co/9x7IDt3OOA

— New Buildings Institute (@NewBldgsInst)

January 21, 2022
@WHCEQ & 30+ local US gov'ts just committed to working with their communities to equitably decarbonize buildings via co-designed policies and programs. This is a huge move for the future of green building. https://t.co/q8NN1p94Ea https://t.co/Tpnr51du7R

— USGBC (@USGBC)

January 21, 2022
The Institute for Market Transformation, a nonprofit dedicated to increasing energy efficiency in buildings, wrote in response to the announcement that it "sends a very clear market signal," and noted how "increasing the volume of retrofits will scale demand for services."
Meanwhile, Rip Rapson, president and CEO of the cities-focused Kresge Foundation, called upon philanthropic organizations to support local, frontline organizations working on this transition.
The full list of governments comprising the coalition includes the state of Colorado; state of Washington; Ann Arbor, Michigan; Annapolis, Maryland; Aspen, Colorado; Atlanta; Boston; Cambridge, Massachusetts; Chicago; Chula Vista, California; Columbus, Ohio; Denver; Evanston, Illinois; Fort Collins, Colorado; Grand Rapids, Michigan; Ithaca, New York; Kansas City, Missouri; Los Angeles; Milwaukee; Montgomery County, Maryland; New York City; Orlando, Florida; Philadelphia; Pittsburgh; Portland, Oregon; Prince George's County, Maryland; Reno, Nevada; Sacramento, California; St. Louis; San Francisco; Savannah, Georgia; Seattle; Washington, D.C.