Chart: SF for Rent May Be Slowing Before a Surge
Originally Published by: NAHB — May 19, 2021
SBCA appreciates your input; please email us if you have any comments or corrections to this article.
Counter to expectations, the number of single-family homes built-for-rent (SFBFR) construction starts posted a year-over-year decline for the first quarter of 2021. The SFBFR market is a way to add single-family inventory amid concerns over housing affordability and downpayment requirements in the for-sale market, particularly during a period when people want more space and a single-family structure. Single-family built-for-rent construction differs with respect to structural characteristics compared to other newly-built single-family homes, particularly with respect to home size.
According to NAHB's analysis of data from the Census Bureau's Quarterly Starts and Completions by Purpose and Design, there were approximately 7,000 single-family built-for-rent starts during the fourth quarter of 2020. This was a 22% decline relative to the first quarter 2020 total of 9,000. Over the last four quarters, 42,000 such homes began construction, which is about flat compared to the 41,000 estimated SFBFR starts for the four prior quarters.
Given the small size of this market segment, the quarter-to-quarter movements typically are not statistically significant. The current four-quarter moving average of market share (4.1%) remains higher than the historical average of 2.7% (1992-2012) but is down from the 5.8% reading registered at the start of 2013.
Importantly, as measured for this analysis, this class of single-family construction excludes homes that are sold to another party for rental purposes, which NAHB estimates may represent another two percent of single-family starts. The estimates in this post only include homes built and held by the builder for rental purposes. It is possible this share is rising, and we will have future survey results to explore it.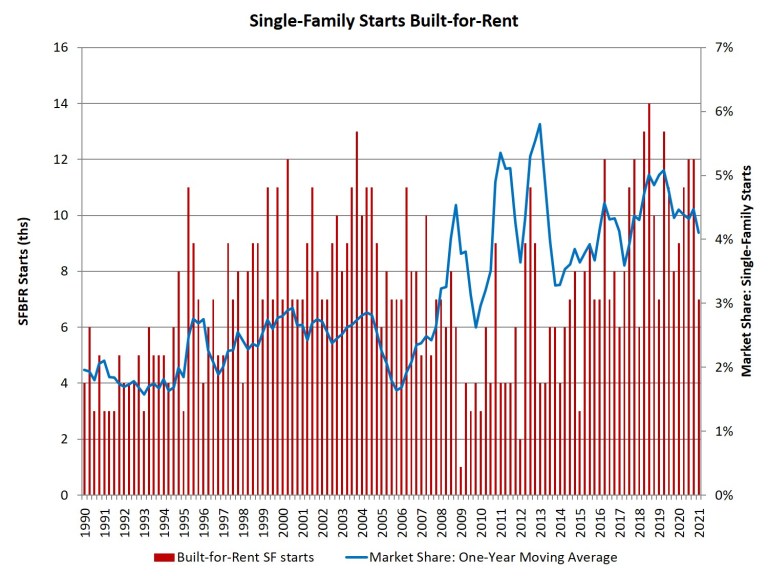 With the onset of the Great Recession and declines in the homeownership rate, the share of built-for-rent homes increased in the years after the recession. While the market share of SFBFR homes is small, it has been trending higher. As more households seek lower density neighborhoods and single-family residences, but some must do so from the perspective of renting, the SFBFR market will likely expand in the quarters ahead as the economy recovers from the virus crisis.