Today's Innovations in Modular, BIM and 3D Printing
Originally Published by: HBS Dealer — May 20, 2021
SBCA appreciates your input; please email us if you have any comments or corrections to this article.
Is it possible that homeowners of the not-too-distant future will have large parts of their dwelling (or maybe even all of it) delivered from a printer, instead of a building supply dealer?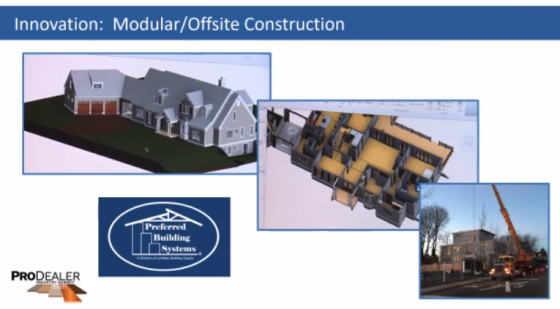 The modular home movement is showing improvement.
The short answer, according to the presentation Thursday during the 2021 ProDealer Industry Summit, is "yes." And not only that, these 3D-printed materials could be extruding bio-based materials that are good for the environment.
That was one of the forward looking ideas featured in the presentation, titled "Innovation & Disruption in the LBM Industry." The presentation also looked at the concepts of modular building, cross-laminated timber and virtual reality.
With things moving fast, it's hard to identify the next big thing that will alter the business. Tiffany Reeder of US LBM Holdings, product manager, interiors, described virtual reality as having a real impact today in forward-thinking show rooms.
Customers and home owners. Experience a "wow" moment, she said, when they put on their VR goggles supplied by the show room.
"The crisp incredibly real images that we can create actually make you want to reach out and turn on the faucet at the sink, or walk over and open a cabinet door," she said. "It's this visualization and interactivity that our customers expect."
This selling process allows the dealer to connect with the customer, especially the younger customer.
"I'm confident that we'll continue to see an expansion of the virtual and augmented reality in the buying process," she said. "We'll likely see brick and mortar spaces shrink, while at the same time being able to actually sell and provide and sell more product solutions for the customers."
Virtual and augmented reality tools will also play a major role in training – from forklift training to cabinetry installation. "Really exciting stuff," Reeder said.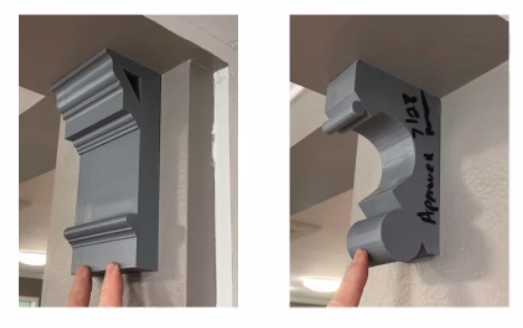 Moulding samples merely hint at the disruptive potential of 3D printing.
Bryan Huot, vice president of LaValley Building Supply, agreed with the idea that modular homes have shed their reputation as inferior to traditional methods.
"The stars are kind of aligning a little more now right now for modular home construction," he said "You have labor challenges and a lot of other macroeconomic challenges. So people are hungry for easier ways to construct homes."
Huot drew the analogy between modular home construction and OSB, which had to overcome resistance to change among builders who "only use plywood."
There's nothing cookie cutter about the designs of Preferred Building Systems, LaValley's modular division. "We do modern structures, to Victorian style houses, as well as traditional New England capes, colonials and ranches," he said. "It's a very diverse offering."
Think of it as "stick building within a factory," he said. "We're applying a lot of manufacturing techniques to introduce efficiencies to the process."
The session on disruptive trends included a presentation from Habib Dagher, the executive director of the Advanced Structures and Composites Center at the University of Maine, site of the world's largest polymer 3-D printer.
Dagher showed lumber dealers stop-action photography of the creation of a boat after four days of continuous printing. "You can see what is possible," he said.
Dagher explained that the ASCC has its eyes on pushing the envelope of 3D home printing by creating a complete house that is printed completely on site.
It remains to be seen if the printed home can make a substantial dent in the housing market.