Chart: Share of 'Not-Started' Home Sales Increases
Date posted
January 4, 2022
Originally Published by: Eye on Housing — December 23, 2021
SBCA appreciates your input; please email us if you have any comments or corrections to this article.
New single-family home sales rose in November as housing demand was supported by low interest rates and strong consumer demand, despite the ongoing building materials challenges impacting the housing industry.
The U.S. Department of Housing and Urban Development and the U.S. Census Bureau estimated sales of newly built, single-family homes in November at a 744,000 seasonally adjusted annual pace, a 12.4% gain over downwardly revised October rate of 662,000 and is 14.0% below the November 2020 estimate of 865,000.
The gains for new home sales are consistent with the NAHB/Wells Fargo HMI, which edged up to 84 in December, demonstrating that housing is a leading sector for the economy.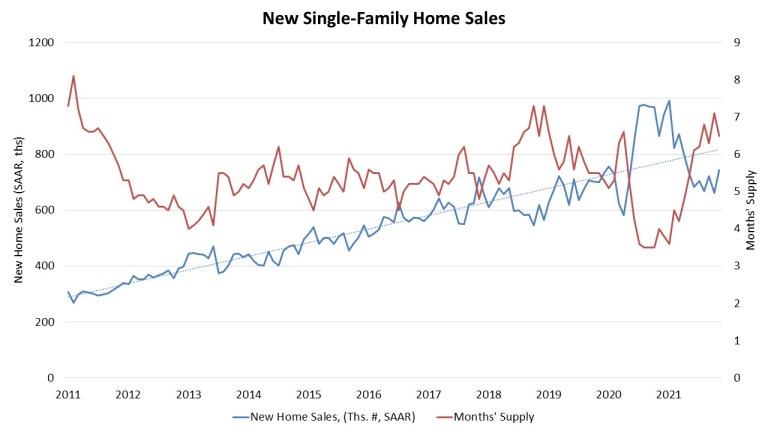 Sales-adjusted inventory levels are at a balanced 6.5 months' supply in November. The count of completed, ready-to-occupy new homes is just 40,000 homes nationwide. Median sales price continues to increase in November at $416,900. This is up 18.8% compared to the November 2020 median sales price of $350,800.
Moreover, sales are increasingly coming from homes that have not started construction, with that count up 75.4% year-over-year, not seasonally adjusted (NSA). These measures point to continued gains for single-family construction ahead.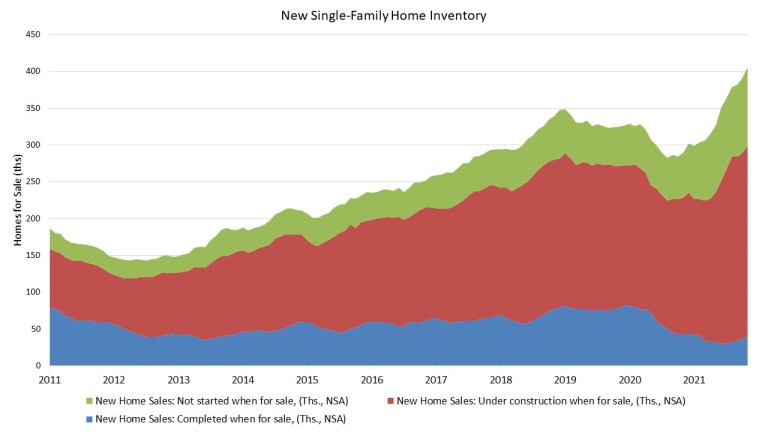 Regionally on a year-to-date basis, new home sales declined in all four regions; 1.3% in the Northeast, 4.5% in the South, 5.3% in the Midwest, and 12.5% in the West.