Chart: Share of Women in Construction Growing
Date posted
September 22, 2021
Originally Published by: NAHB — September 13, 2021
SBCA appreciates your input; please email us if you have any comments or corrections to this article.
The number of women employed in the construction industry grew slightly in 2020, rising to around 1.17 million, while the construction industry lost 587,000 jobs in 2020 when the pandemic hit the economy. Currently, women make up a growing share of the construction employment, up to 10.9% in 2020 from 10.3% in 2019. As the construction skilled labor shortage remains a key challenge, adding new workers is an important goal of the industry. Bringing additional women into the construction labor force represents a potential opportunity for the future. Here we explore the state of women in the construction industry using labor force statistics from the Current Population Survey (CPS).
During the Great Recession, the number of female construction workers declined sharply by almost 30 percent to 807,000 by 2010. From 2010 to 2017, the total slowly expanded to around 970,000 but remained below the peak of pre-recession levels. The number of women working in construction increased to 1.17 million in 2020, edged up by 0.4% in 2020 during the pandemic.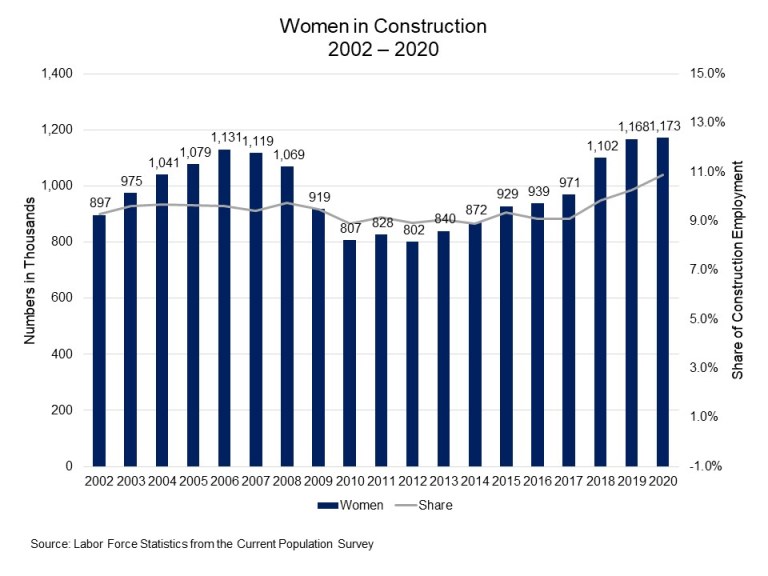 Overall, the share of women in construction increased to 10.9% in 2020. According to the Current Population Survey, women in the construction are mostly involved in such occupations as office and admnistrative support, management, business and financial operations. Sales and office occupations employed the largest number of women within the construction industry. For example, women accounted for 69 percent of workers in sales and office occupations, including 444,000 women in office and administrative support, and 32,000 in sales and related occupations in 2020. Around 398,000 women were engaged in management, professional, and related occupations.
While construction and mainenance occupations account for the largest number of employees in construction, and is where additional workers are needed, women comprised only 6 percent of the such occupations. More improvement is needed here. Other groups such as production, transportation, and material moving occupations, and service occupations employed only around 14,000 female workers.