Charts: Building Material Costs Continue to Drop
Date posted
October 18, 2022
Originally Published by: NAHB — October 12, 2022
SBCA appreciates your input; please email us if you have any comments or corrections to this article.
The prices of building materials decreased 0.3% in September (not seasonally adjusted) according to the latest Producer Price Index (PPI) report. The PPI for goods inputs to residential construction, including energy, declined for the third consecutive month in September (-0.1%). Prices have fallen 2.3% since June, the largest three-month drop since April 2020.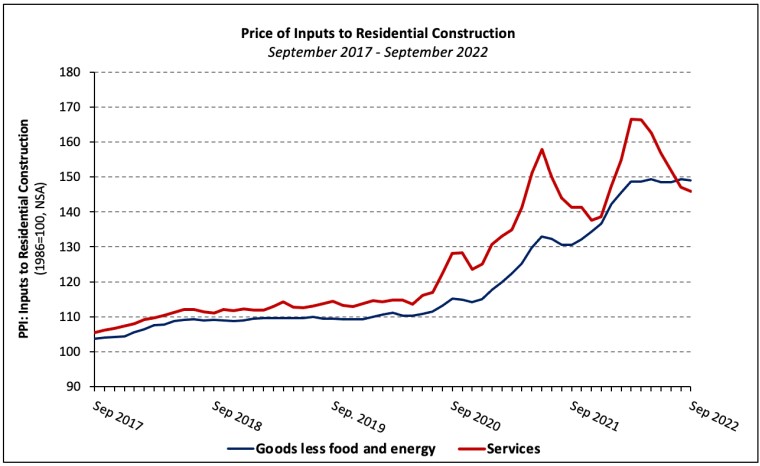 The price index of services inputs to residential construction decreased 0.8% in September, driven by lower building materials wholesalers' margins and freight transportation prices. Services prices have declined each of the last six months by a combined 12.4% and are at the lowest level since 2021. Despite the six-month decline, the PPI for services inputs to residential construction is 3.3% higher than it was in September 2021.
Softwood Lumber
The PPI for softwood lumber (seasonally adjusted) declined 2.9% in September following a 5.2% drop in August. Softwood lumber prices are 14.5% higher than they were a year ago but have fallen 39.6% since March. The index remains 41.9% above pre-pandemic levels.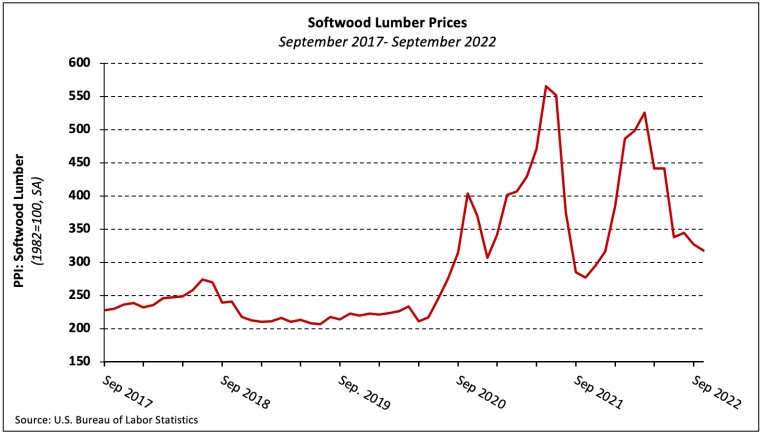 Steel Mill Products
Steel mill products prices decreased 6.7% in September and have fallen 16.1% over the past four months. The index is at its lowest level since June 2021, but prices of steel mill products are nearly double their pre-pandemic levels, on average.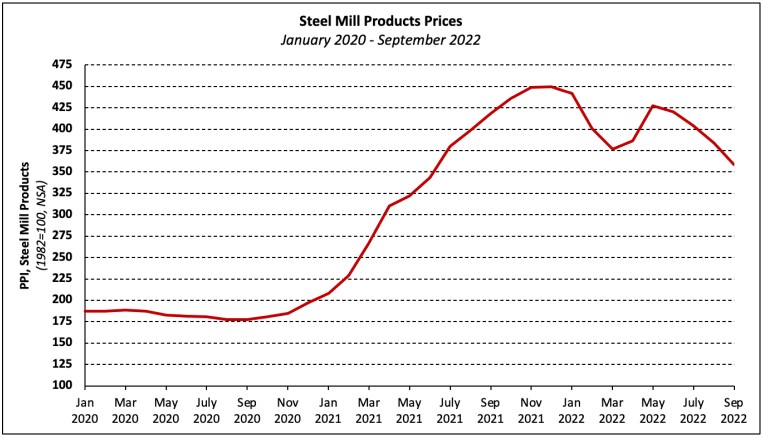 Ready-Mix Concrete
The PPI for ready-mix concrete (RMC) increased 1.4% in September—its sixth consecutive increase—and has risen 11.6% over the past year. The index has climbed 8.9%, year-to-date, the largest September YTD increase in the series' 34-year history.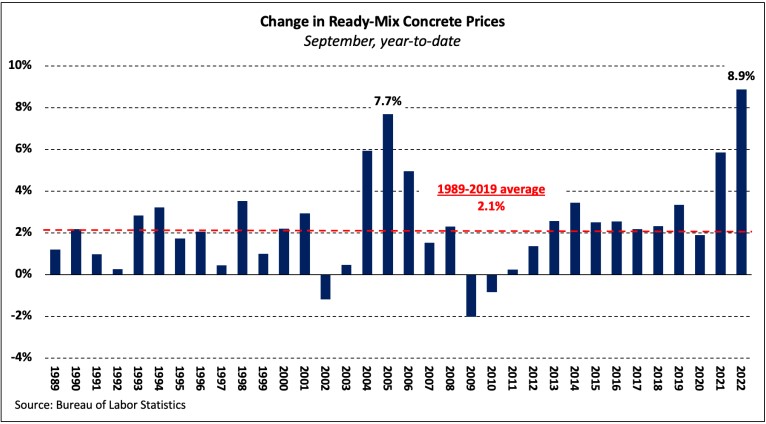 The monthly increase in the national data was primarily driven by a 2.6% price increase in the South region and partially offset by a 0.7% decline in the Northeast. Prices were flat in the Midwest and edged 0.3% higher in the West.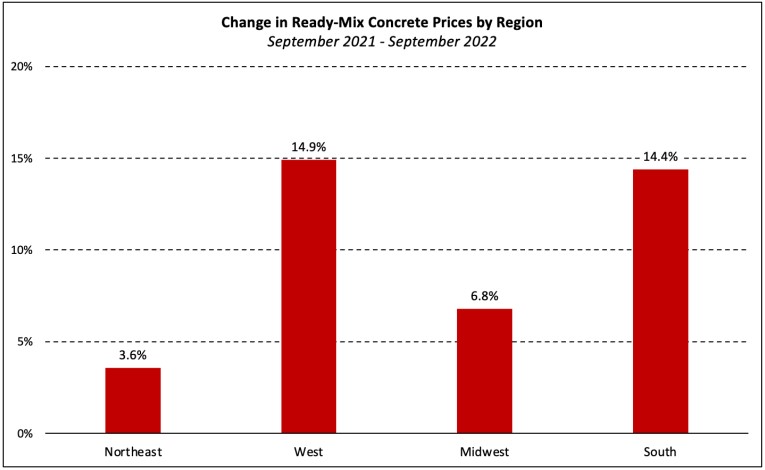 Gypsum Building Materials
The PPI for gypsum building materials edged 0.2% lower in September—just the second monthly decrease in two years. Prices have increased 20.2% over the past year and are up 46.0% since January 2020.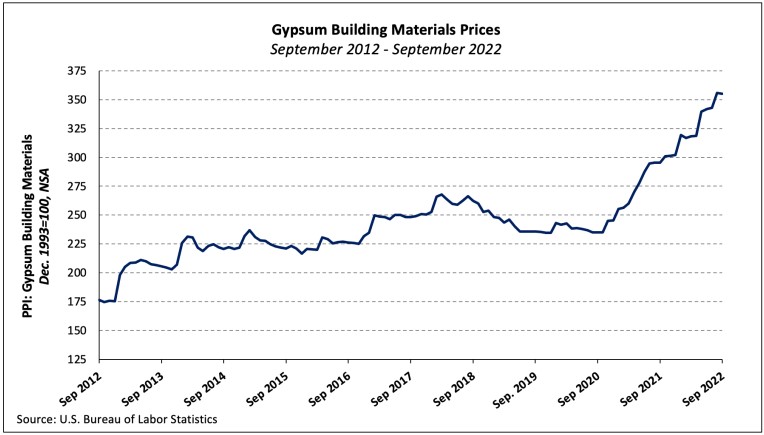 Transportation of Freight
The price of truck transportation of freight decreased 0.4% in September following a 1.9% decline in August. Prices have fallen 3.1% over the past four months, driven lower by a 4.5% decline in the price of long-distance motor carrying. Over the same period, the PPI for local motor carrying increased 1.4%.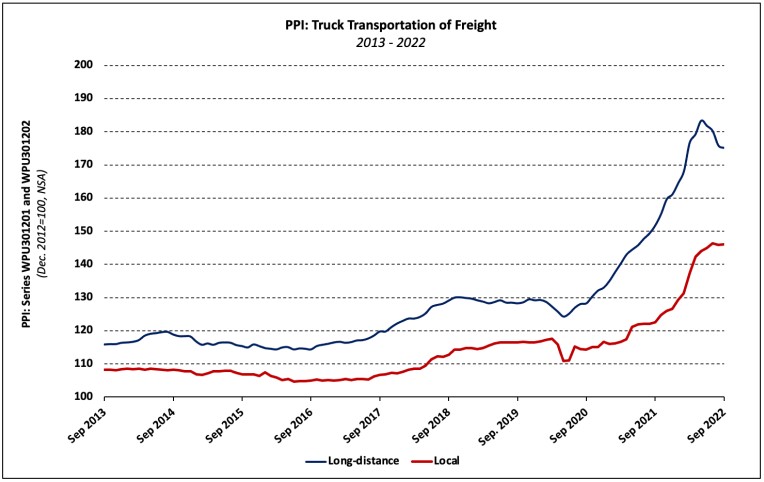 Year-to-date, the prices of ocean, rail, and truck freight transportation have increased 22.4%, 7.7%, and 8.0%, respectively.