Charts: Floor Truss Market Growth Ahead?
Originally Published by: SBCA Magazine by Sean Shields — June 15, 2021
SBCA appreciates your input; please email us if you have any comments or corrections to this article.
The use of open-web floor trusses has steadily increased over the past decade, but there's a lot of room to grow. Ed Huston from Home Innovation Research Labs recently gave a presentation to members of the SBCA at the Open Quarterly Meeting (OQM) in White Sulphur Springs, West Virginia. In that presentation, Ed shared some of the results from their April 2021 Builder Best Practice Reports on Structural Systems, which contains survey results from over 1500 homebuilder participants. We already reviewed the promising data on wall panels and there's good news for floor trusses too.
If a picture speaks a thousand words, the chart below neatly summarizes more than ten thousand words regarding the impact of the building code. The green line in the chart represents wood I-joists, clearly the preferred framing product for non-slab-on-grade first floors and floors above grade. Market share was actually increasing until 2015, when most states updated to the 2012 versions of the model code. In the IRC, Section R501.3 (R 503.1 in later versions of the code), gypsum sheathing was now required on all unprotected wood structural framing unless it was constructed using dimensional lumber.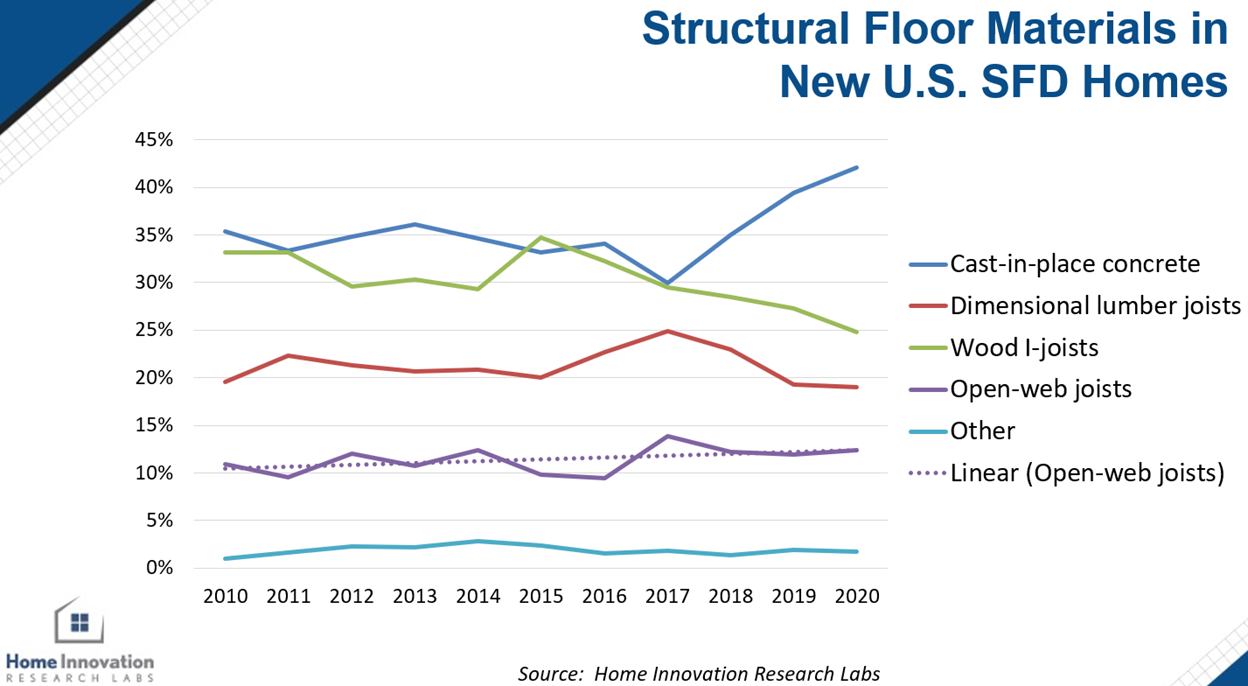 This code change had an immediate impact on builder preference, with I-joists and dimensional lumber market share moving in opposite directions. Curiously, over time this code change may have actually prompted some builders to finish off basements and use open-web floor trusses to more easily run all the MEP in the floor cavity. The benefits of easier MEP installation in floor trusses is efficiently illustrated in the builder-preference in multi-family construction, where market share has also increased over time, as the chart below shows.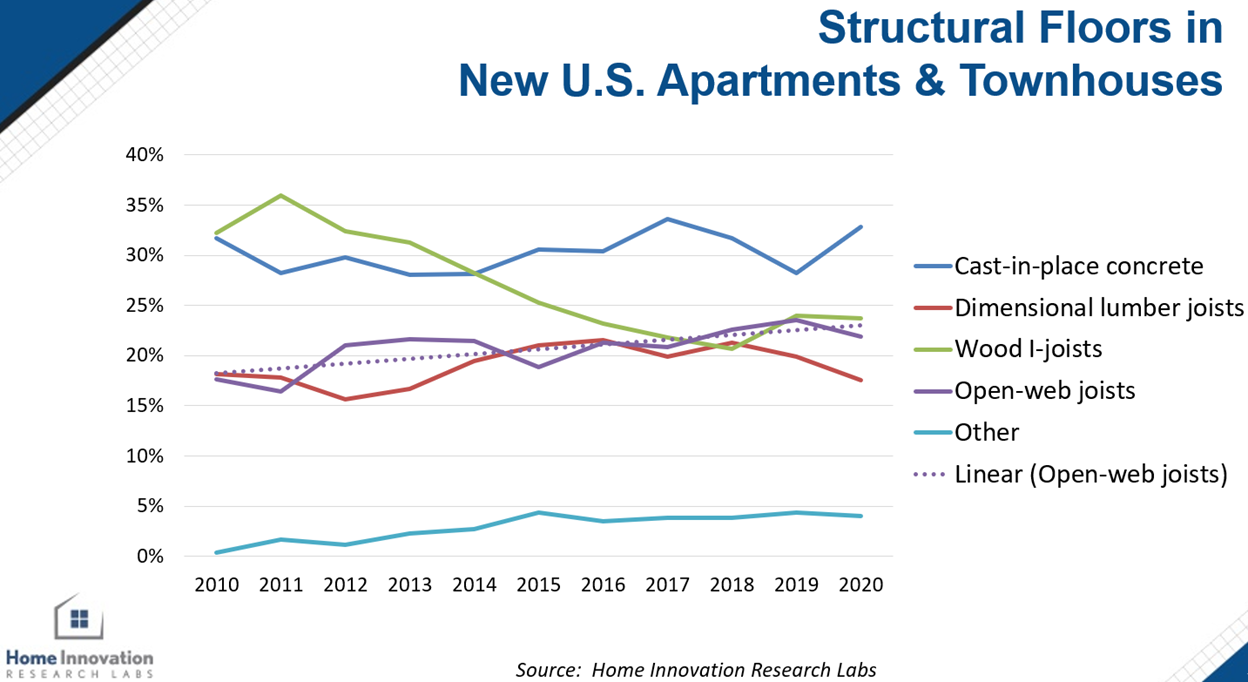 Since 2017, slab-on-grade single-family construction has surged. While this has taken relative market share from both dimensional and EWP joists, the share for open-web floor trusses has continued to increase (albeit, slightly). Given the dramatic shift in market share, the national market resiliency of floor trusses suggests that in non-slab markets, floor truss market share has increased in recent years. The chart below shows there is currently significant regional preference for floor trusses.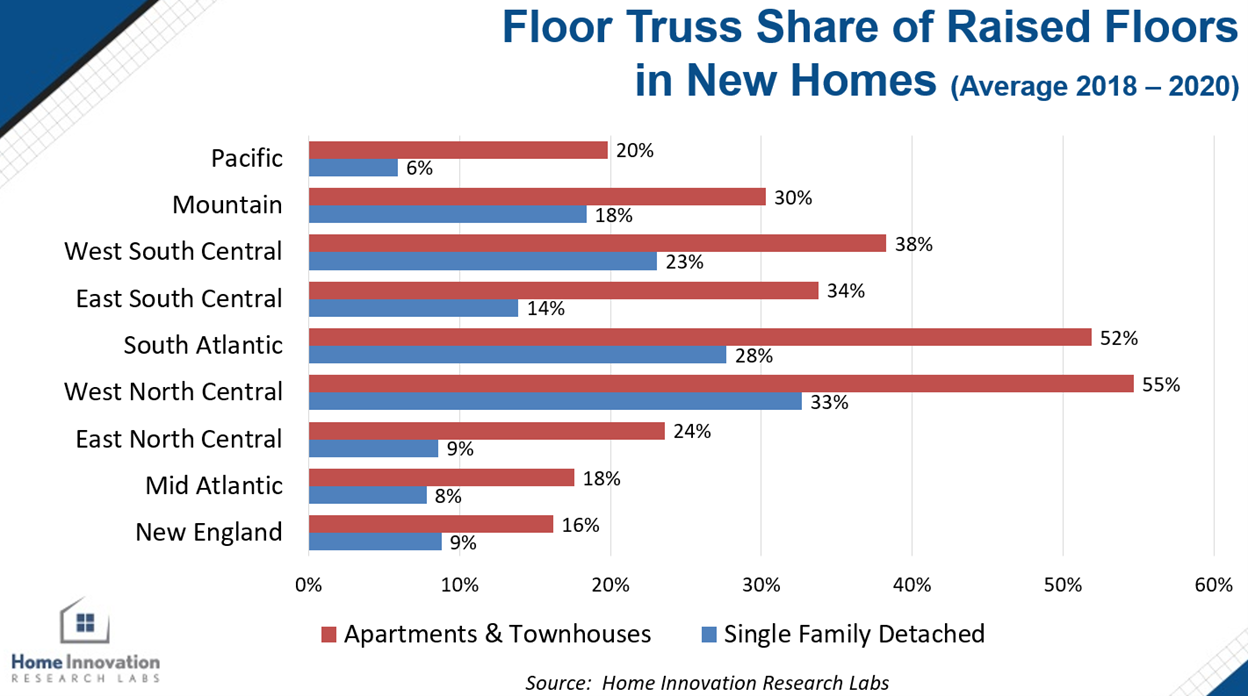 All of this data suggests there is an opportunity for significant market share growth for floor trusses, given they offer an incredibly efficient and accurate floor framing system that utilizes less lumber and eases the labor burden for all the MEP trades.