Charts: Market Opportunities for Wall Panels
Originally Published by: SBCA Magazine by Sean Shields — June 8, 2021
SBCA appreciates your input; please email us if you have any comments or corrections to this article.
There is a lot of market share to be had with regard to structural wall panels and single-family homebuilders increasingly want to use them. Ed Huston from Home Innovation Research Labs recently gave a presentation to members of the SBCA at the Open Quarterly Meeting (OQM) in White Sulphur Springs, West Virginia. In that presentation, Ed shared some of the results from their April 2021 Builder Best Practice Reports on Structural Systems, which contains survey results from over 1500 homebuilder participants.
According to the most recent survey, a vast majority (77.6%) of light-framed walls in residential construction are site built; in contrast only 8.4% are panelized (7.2% open panels/1.2% closed panels). For reference, open panels have no interior sheathing, hence the interior wall cavity is open. By contrast, closed panels have interior sheathing applied, along with wall cavity MEP, making the interior cavity closed.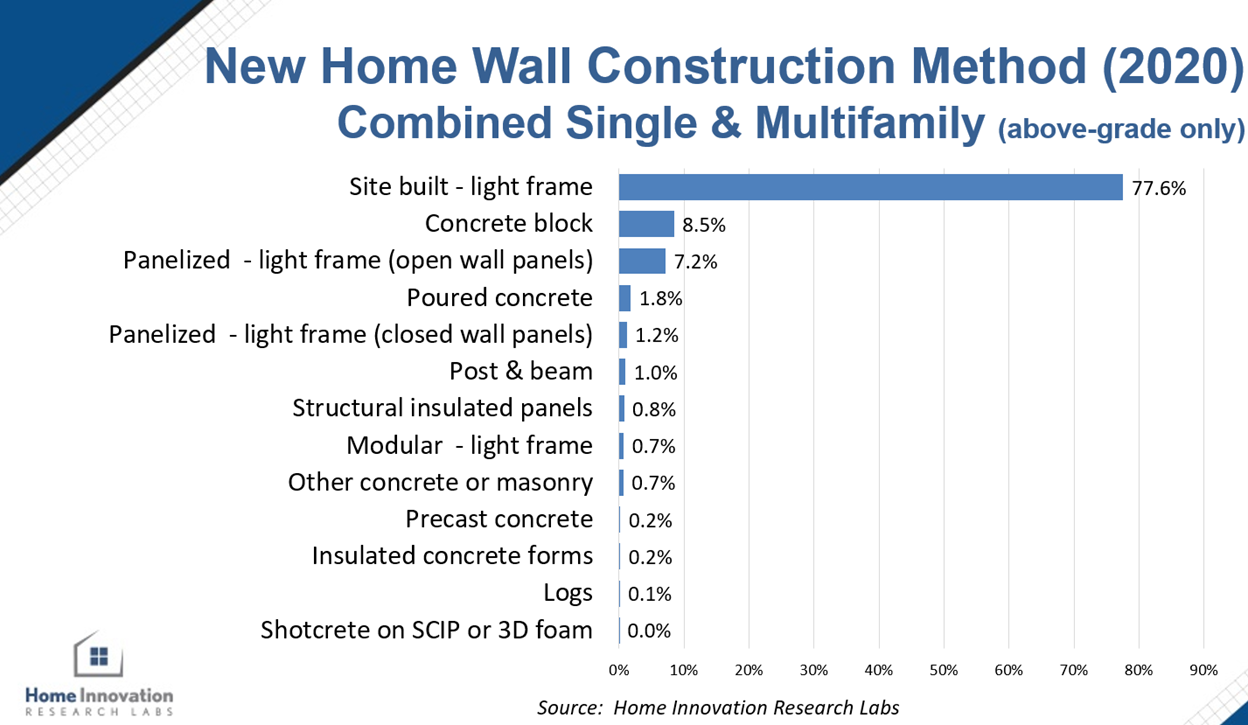 This data would suggest there is a clear preference in the U.S. market. Fortunately, the data provides enough data points to provide a strong breakdown by region. So while wall panels are used in only 1-2% in the South Central regions, panels are used in a whopping 21% of multifamily projects in the South Atlantic region and 10% of both single-family and multifamily projects in the East North Central region. All of this suggests there is currently strong regional preferences when it comes to wall panel use.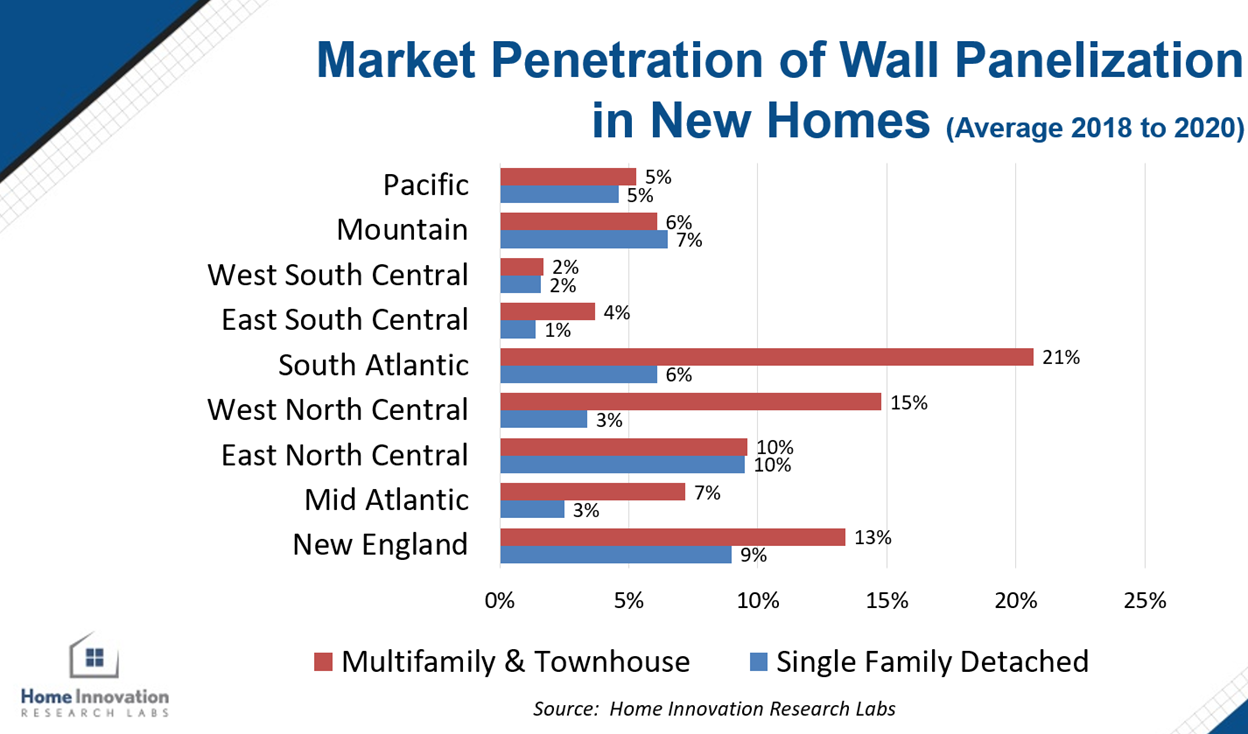 The real question is whether those regional preferences will constrain the use of wall panels and inhibit future market share growth. A separate Home Innovation Research Labs study, the Builder Survey on Outlook for Offsite Construction, provides a positive answer. Over the next five years, 28% of builder respondents indicated they plan to maintain their current use wall panels, while 16% indicated they plan to start using wall panels (or use them even more).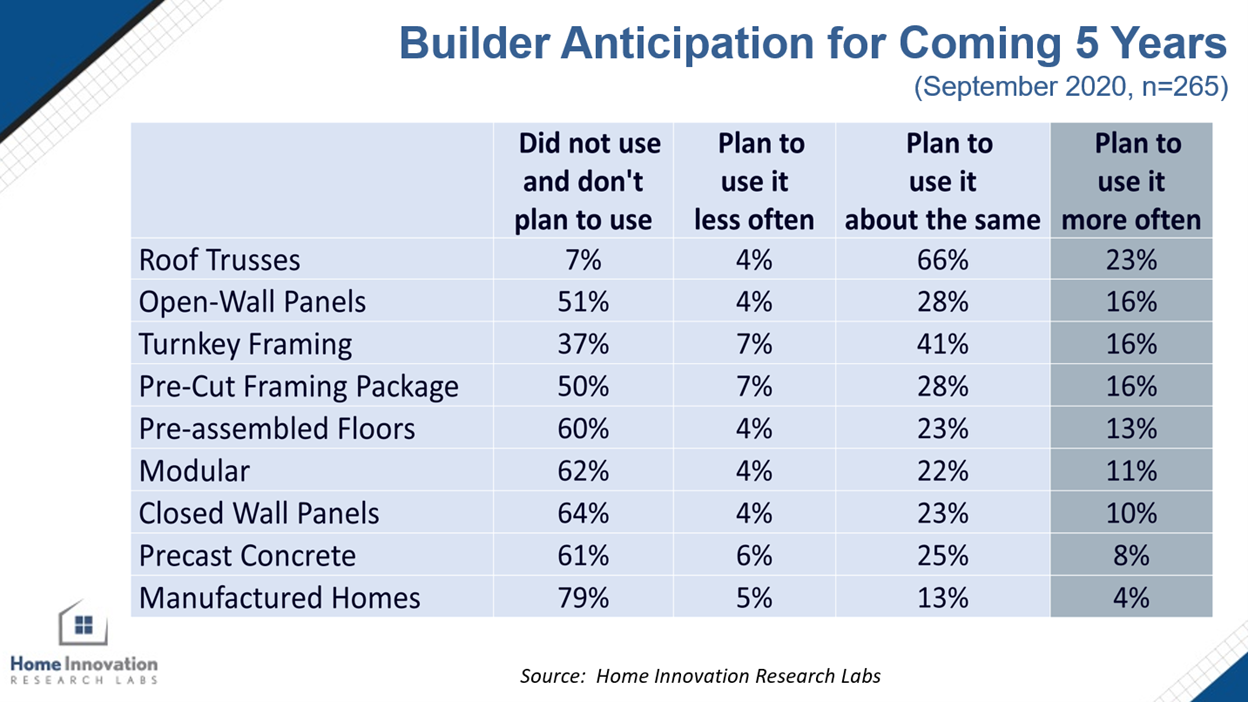 In other words, the future for wall panels looks very positive. This data should be encouraging to a component manufacturer who currently offers wall panels or is considering adding them as a product line.