Construction Material Costs Decline, Lumber Down 26% in 2022
Date posted
January 24, 2023
Originally Published by: HBS Dealer — January 19, 2023
SBCA appreciates your input; please email us if you have any comments or corrections to this article.
Construction materials prices declined in December amid easing inflation.
Softwood lumber prices declined 5.1%.
Construction input prices fell 2.7% in December compared to the previous month, according to an Associated Builders and Contractors analysis of U.S. Bureau of Labor Statistics' Producer Price Index data released today. Nonresidential construction input prices also declined 2.7% for the month. (In November, non-residential construction input prices declined 0.8%.)
Overall construction input prices are 7.9% higher than a year ago, while nonresidential construction input prices are 7.6% higher. Crude petroleum prices fell sharply in December, down 14.9%, and softwood lumber prices fell 5.1%.
Not all sectors registered declines. Natural gas prices surged 45.3% in December, and are up a whopping 315.6% since February 2020. Prices inched up in fabricated structural metal products, concrete products and prepared asphalt, tar roofing and siding products. (See chart below for month-over-month percent changes in inputs to non-residential construction from the Producer Price Index input for December.)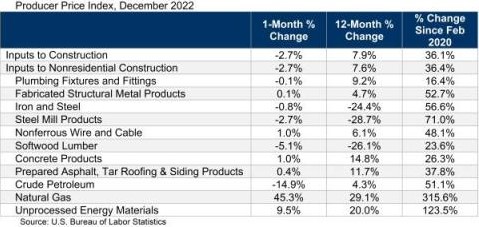 While construction input prices fell in December, they remain nearly 8% above a year ago.
The Producer Price Index data represents another positive development on the inflation front, noted Anirban Basu, chief economist, ABC, which is both good and bad news.
"Recent consumer and producer price releases indicate that inflation is fading, though it remains well above the Federal Reserve's 2% target," he said. Should inflation continue to abate, the Federal Reserve may be able to stop increasing interest rates sooner than anticipated. Interest rate-sensitive segments like real estate and construction would be among the primary beneficiaries. Contractors are currently maintaining their longest backlog since 2019, according to ABC's Construction Backlog Indicator."
However, the decline in input prices may also be a reflection of spreading economic weakness, both in the United States and other parts of the world, Basu warned
"War continues in Eastern Europe and the commodity use-intensive Chinese economy is in the process of reopening," he said. "Though there is evidence of improving supply chain functioning and moderation in input prices, contractors should not be tempted into complacency."