Debt Ceiling Breach Could Sink Construction 30%
Originally Published by: Construction Dive — May 18, 2023
SBCA appreciates your input; please email us if you have any comments or corrections to this article.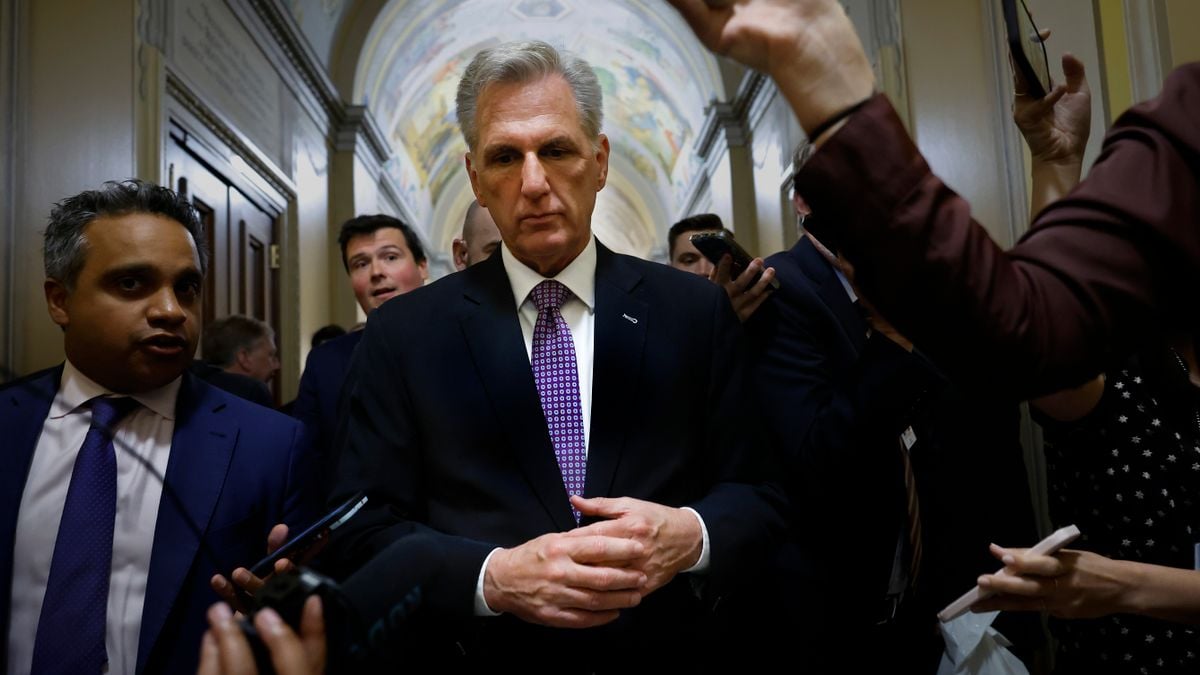 Speaker of the House Kevin McCarthy (R-CA) said a debt ceiling deal could materialize by the end of the week. Kevin Dietsch/Getty Images via Getty Images
Dive Brief:
A prolonged debt ceiling breach that languishes into July would cause a 14% drop in 2023 construction starts and a further 9% tumble in 2024, according to a

forecast from Dodge Construction Network

. From the market's peak in 2022, that would translate into a 30% loss in new building activity.

Meanwhile, a short debt ceiling breach, where Congress resolves the crisis within a week or so after the breach, would cause a 3% drop in construction starts in 2023, before a muted 1% rebound in 2024.

"Our expectation is that Congress and the president will ultimately come to an agreement before the final date," Richard Branch, Dodge chief economist, told Construction Dive. "The odds of a breach are low, but they are not zero."
Dive Insight:
The report, released Tuesday, called the ongoing battle over raising the debt ceiling "the most pressing concern" facing the $1 trillion construction sector, with the potential to have significant repercussions for government spending and overall economic stability.
"Considering the potential impact on businesses across the sector, it's important for business leaders to consider all scenarios, regardless of whether it's good news or bad," Branch said.
The U.S. Treasury has said that the federal government will bump into its mandated debt limit as soon as June 1. By law, Congress must vote to raise that threshold so the government can continue borrowing money to pay its bills. Otherwise, it would default on its debts, an outcome that would likely cause global economic calamity, since the U.S. is viewed as the world's safest financial harbor.
Before agreeing to a debt hike, however, Republicans in control of the House want a broader resolution to cut overall government spending. Meanwhile, Democrats are lobbying for a "clean increase" before addressing a larger spending framework.
The consensus remains that Congress will avoid a default before the June deadline, said Ginger Chambless, head of research for commercial banking at JPMorgan Chase. Likewise, the Dodge report notes the two scenarios it lays out still seem unlikely to occur.
Speaker of the House Kevin McCarthy (R-CA) said Tuesday a deal could materialize "by the end of the week" after a meeting with President Joe Biden and congressional leaders at the White House, according to The New York Times.
Biden tapped two senior officials, Office of Management and Budget Director Shalanda Young and counselor Steve Ricchetti on Tuesday to lead negotiations with McCarthy's deputy, Republican Rep. Garret Graves of Louisiana, on the debt ceiling talks. Still, some Senate Democrats are pressing Biden not to agree to any deal that involves concessions to Republicans, such as rolling back tax breaks in the Inflation Reduction Act.
Other scenarios
Under forecasts in which Congress avoids a default, the Dodge report pegs construction starts to grow 2% in 2023 and another 6% in 2024.
In this best-case scenario, private sectors such as residential, office, hotel and warehouse projects, would still feel pressure due to construction costs, labor shortages and financing concerns. But public sectors, such as infrastructure, education and healthcare, would offset those slumps, largely due to boosts from federal funding packages.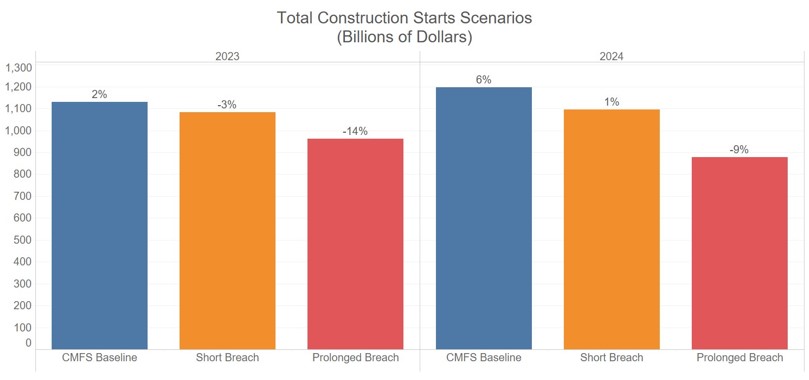 If Congress fails to avert the crisis by the June deadline, all verticals would slow down in 2023 and 2024, including those boosted by federal funding packages, according to Dodge.
From peak to trough, total construction starts would lose approximately 30% under this worst-case scenario. That compares to a 40% loss in starts during the Great Recession.
Nevertheless, this potential slowdown would differ from that contraction, according to Dodge.
Unlike the 2007 to 2009 period, there are no "significant systemic issues" facing the economy. That means the broader market should transition to a healthy recovery in construction starts by late 2024 in the prolonged breach scenario and early 2024 in the short breach scenario, according to the report.