Historic Nashville Attendance Reaps Enormous Value
Originally Published by: SBCA Magazine — May 9, 2023
SBCA appreciates your input; please email us if you have any comments or corrections to this article.
SBCA's Nashville Open Quarterly Meeting (OQM) may have been the largest in-person meeting outside of BCMC in several decades. With 172 members in attendance, the week was filled with lively discussions, informative sessions, creative team building, and lots of good food, entertainment, and conversation.
The OQM started with a presentation by Molly Haliday, vice president of marketing for Operation Finally Home, an organization that builds mortgage-free homes and renovations for wounded veterans and first responders. Specifically, Molly talked about the house OFH is building for Sergeant Honda and his family near Madison, Wisconsin, with strong financial support from SBCA and its members. The house is slated to be dedicated and given to the family on August 18.
After Molly's presentation, the Trustees of the new SBCA Foundation & Endowment shared the current status of fundraising and their priorities for establishing charitable gifts and evaluating applications based on effectiveness of contributed funds. It was reiterated that the goal was to give to organizations and activities that may be related to the industry, but not to market the association or industry.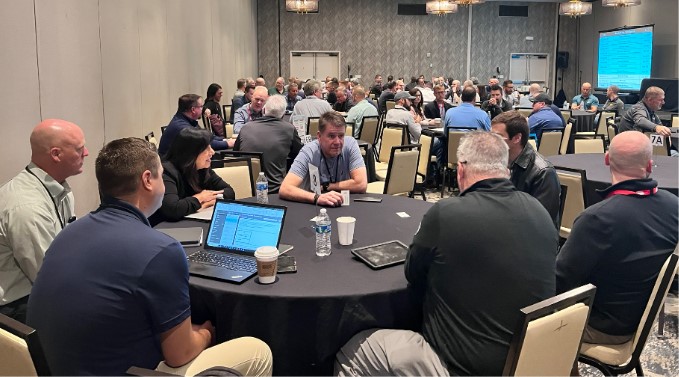 On Wednesday, the group split up for a series of roundtable discussions that covered both planned and spontaneous topics, including:
Continuous Improvement
Optimizing Training and Culture
Reinvestment Strategies
Labor Metrics & Measurement
Raw Material Management
Navigating Project Delays
Unexpected Failures
Maintenance Management
Digital QC Best Practices
Wall Panel QC
Automation Best Practices
In between roundtable sessions, several SBCA standing committees met to discuss ongoing activities and establish goals based on member input and the strategic goals included in the new strategic plan.
After lunch on Wednesday, executive director Jess Lohse provided an in-depth look at SBCA five-year strategic plan. The plan will have three strategic goals:
Achieve membership from at least 25 percent of the market opportunity of component manufacturers who are currently non-members, and maintain a 97 percent retention rate.
Attract at least 10 new innovators and 10 innovations that improve systems, processes, and/or services that are adopted and make a business impact for our members.
Launch a preferred knowledge center for its members and constituents that keep them engaged.
The strategic plan was approved by the Board of Directors on Thursday and staff will be working with members to establish goals and tasks to achieve these goals. You can view the strategic plan online here.
After all the idea sharing, a majority of the attendees participated in a spirited engineering competition to build the tallest tower out of raw spaghetti, tape, and string, with a large marshmallow balanced on top. Congratulations to the winning team of Larry Dix, Julianne Rickers, Scott Albritton, and Nik Moeller!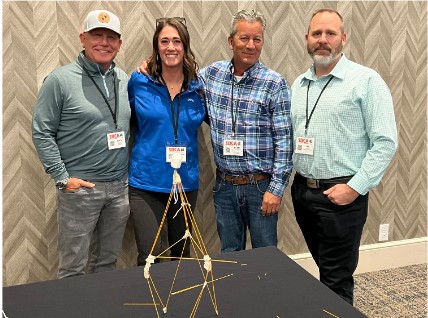 The Board meeting on Thursday was jam packed with updates on everything from the association's financials to the current outlook for the Building Component Manufacturers Conference and Framer Summit (BCMC|FS) 2023. BCMC|FS attendee registration is now open, with the early bird discount active until August 4th. The SBCA Innovation Grant winner was also announced, with Vekta Advanced Automation's Raking Framer winning this year's grant. Reservations for exhibition space square footage is well ahead of where it was last year, which promises an even bigger and better show this year in Indianapolis, Indiana!
The next SBCA OQM will be in Buffalo, New York, July 25-27. Block off your calendars today and look for an announcement soon when online registration opens. Hotel rooms and dinner reservations went disappeared quickly in Nashville, so it is recommended to sign up early.