Labor Shortages Quickly Becoming National Issue
Date posted
August 17, 2021
Originally Published by: NAHB — August 9, 2021
SBCA appreciates your input; please email us if you have any comments or corrections to this article.
In the June labor market data, job openings for the overall economy increased to 10.1 million open positions. What had been a challenge in certain sectors, like construction, is now a broad labor access issue as businesses seek workers as the economy reopens.
The count of open construction jobs increased in June to 339,000 unfilled positions, according to data from the BLS Job Openings and Labor Turnover Survey (JOLTS). The housing market remains underbuilt and requires additional labor, lots and lumber and building materials to add inventory.
Overall, hiring in the construction sector remained solid in June, increasing to a 4.8% rate. The post-virus peak rate of hiring occurred in May 2020 (10.3%) as a rebound took hold in home building and remodeling. Hiring has generally slowed since that time, with the exception of a weather-related rebound in March 2021. Hiring has been impeded due to a lack of workers.
Construction sector layoffs ticked up in June at a 2.5% rate. In April 2020, the layoff rate was 10.9%. Since that time however, the sector layoff rate has been below 3%, with the exception of February 2021 due to weather effects.
The job openings rate in construction increased to 4.4% in May, with 339,000 open positions in the sector. This is higher than the 238,000 count recorded a year ago.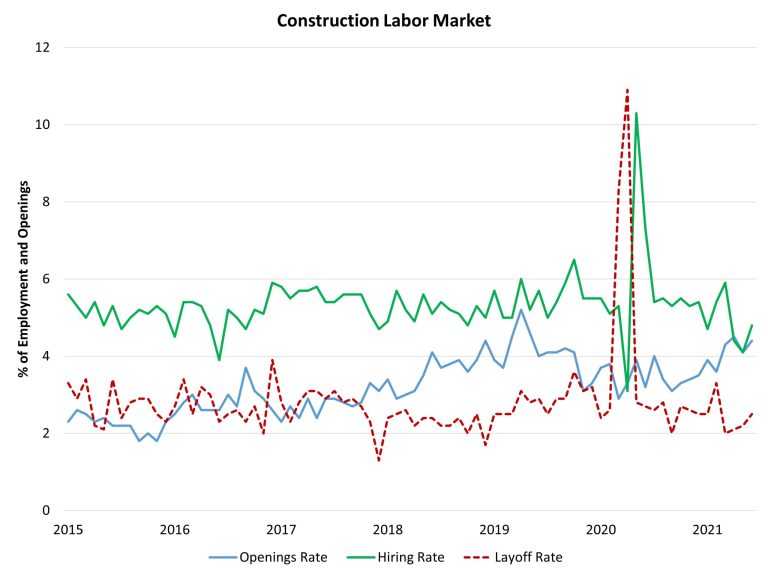 Looking forward, the construction job openings rate is likely to see increased upward pressure as both the residential and nonresidential construction sectors show gains. Attracting skilled labor will remain a key objective for construction firms in the coming quarters and will become more challenging as the rest of the economy recovers.