Modular Sneaking into the Fast-Food Business
Date posted
September 6, 2022
Originally Published by: Construction Dive — August 26, 2022
SBCA appreciates your input; please email us if you have any comments or corrections to this article.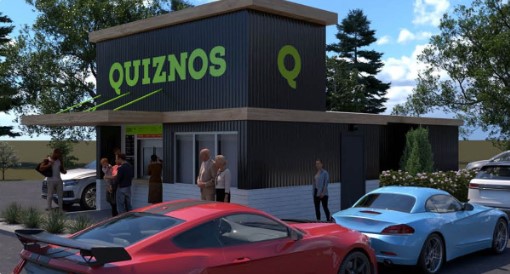 Rego Restaurant Group signed an exclusive deal with BCube Manufacturing in August 2022 to provide franchisees with the option to build modular drive-thru units for Quiznos or Taco Del Mar. Courtesy of Rego Restaurant Group
Dive Brief:
Rego Restaurant Group signed an exclusive deal with BCubed Manufacturing to provide fully outfitted, free standing, 650-square-foot drive-thrus for Quiznos and Taco Del Mar, the companies announced Wednesday.

BCubed owner Jeff Konczak, through his Alpena Marc business, signed a two-unit development agreement to build and operate a Quiznos and a Taco Del Mar in the coming months.

Last year Rego deployed a new

redesign and rebrand for Quiznos

and inked a deal for it and Taco Del Mar to expand via

Ghost Kitchen Brands

.
Dive Insight:
The modular restaurants, dubbed Qube for Quiznos and Baja Shack for Taco Del Mar, will allow franchisees to build on sites that are too small for a traditional restaurant. This could accelerate growth and decrease construction time and costs. Traditional drive-thrus can take over 12 months to open given current issues with construction, permitting and supply chain delays, experts have told Restaurant Dive.
Typically, these modular units, which are equipped with wiring and plumbing and are inspected offsite, can be constructed within two to three months or less, Rego CEO Tim Casey said in an email to Restaurant Dive, adding that savings are multi-faceted and will include reduced construction and site preparation costs as well as ongoing operating efficiencies. BCubed is vertically integrated and offers decreased inventory lead times and accelerated production timelines, which also lead to faster development times.
Few major chains have experimented with modular construction despite a push for growth across many brands this year. Several restaurant companies have tried drive-thru-only units, including Tim Hortons, Jimmy John's and Del Taco. BCubed previously partnered with Biggby Coffee, which opened its first BCubed unit in 2018 and is on its way to build the 40th such unit in the fall.
Chick-fil-A and Starbucks explored modular build options in 2021. Inspire Brands said earlier this year it has designed drive-thru-only modular units for Arby's, Sonic, Jimmy John's and Dunkin'.
Rego has seen high levels of interest from multi-unit and single-unit developers, including among existing franchisees that have renewed interest in the brand, Casey said. Existing franchisees have been happy with the transformations that the brands have undergone and have been the first to open new restaurants in 2022, Casey said. Rego signed a deal with CF Lifestyles Investments to develop both brands across Denver. This franchisee, which is one of the pioneers of Quizno's 2021 prototype, also acquired six Quiznos restaurants making it one of the largest franchisees for the brand.