Next Head of DOL Former California Labor Secretary
Originally Published by: Safety and Health Magazine — February 28, 2023
SBCA appreciates your input; please email us if you have any comments or corrections to this article.
President Joe Biden has announced his intent to nominate Julie Su for labor secretary.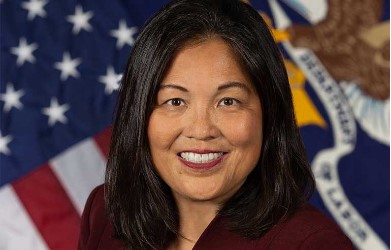 Su, currently the deputy labor secretary, was expected to serve as acting secretary when Marty Walsh resigns. Walsh plans to step down in mid-March to become the executive director of the National Hockey League Players' Association.
Before the Senate confirmed her as deputy secretary in July 2021, Su was California's labor secretary. She also served as the state's labor commissioner from 2011 to 2018 and, before that, worked as a civil rights attorney for 17 years.
"It is my honor to nominate Julie Su to be our country's next secretary of labor," Biden said in a Feb. 28 press release. "Julie has spent her life fighting to make sure that everyone has a fair shot, that no community is overlooked and that no worker is left behind. Over several decades, Julie has led the largest state labor department in the nation; cracked down on wage theft; fought to protect trafficked workers; increased the minimum wage; created good-paying, high-quality jobs; and established and enforced workplace safety standards."
After the president sends her nomination to the Senate, Su is expected to appear before the Senate Health, Education, Labor and Pensions Committee for a confirmation hearing. The committee will then vote on whether to send her nomination to the Senate for a confirmation vote.
The process took about 2½ months for Walsh. Biden announced his intention to nominate the former Boston mayor on Jan. 8, 2021, and the Senate confirmed the nomination on March 22.