NVO is Shaking Up Traditional Construction in Nevada
Date posted
September 13, 2022
Serial entrepreneur Cheryl Lewis, founder of NVO Construction in Stead, wants to disrupt the way homes are built in Northern Nevada.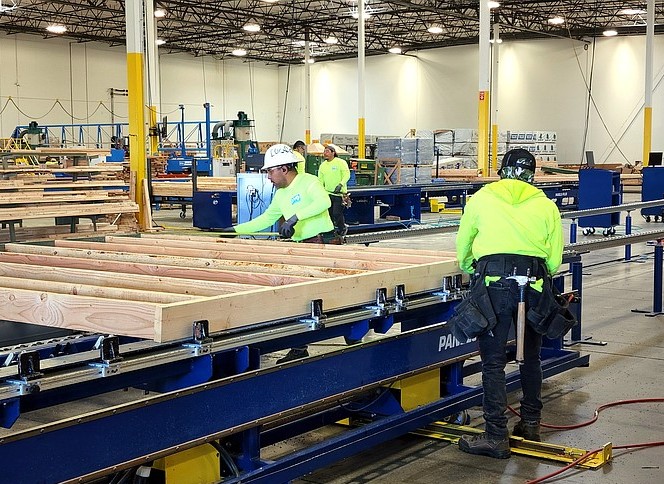 NVO Construction manufactures roof and floor trusses and prefabricated wall panels.
Lewis co-founded NVO Construction, which manufactures roof and floor trusses and prefabricated wall panels, at the end of 2020 and serves as its chief executive officer. NVO Construction operates out of a 75,000-square-foot component manufacturing facility at Lear Boulevard. NVO took possession of the former distribution building in January of 2021 and spent about six months retrofitting the facility to meet its needs as a manufacturing center.
During the retrofit, the company began building prefab wall panels, and it shipped its first prefabricated trusses in August of last year. Since then, the fledgling company has completed about 200 home packages for Toll Brothers Regency at Stonebrook community in Spanish Springs, as well as shipped some commercial roof and floor packages to Salt Lake City among other jobs.

"Framing constitutes 15 to 20 percent of every build, and this is where we can make a huge impact on quality and cost," Lewis told NNBW during a recent interview and tour of the company's production facility. "There are a lot of ways to save money in here because we can control it better."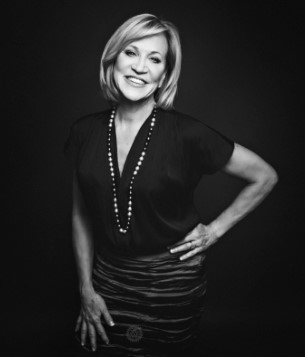 Cheryl Lewis
NVO Construction — the name is derived from the words innovate, evolve and optimize — continues to gain market share as it seeks to change the construction process from stick-built to prefabricated homes, said Aaron West, NVO's chief strategy officer. West was the longtime CEO of the Nevada Builders Alliance before leaving earlier this year to join NVO.
Construction framers usually erect walls on site and have prefabricated trusses delivered. NVO envisions a day where the majority of framing components are delivered pre-assembled and just need to be nailed together onsite. Pre-assembly saves time and significantly reduces construction lumber waste, West said.
"We have seen an evolution; it's just taken a long time," West said. "The industry standard is to frame the walls and get the (roof) trusses delivered. There is a much easier way to do this.
"In terms of waste, if you frame a house onsite you can expect 20 percent waste. That's all really good material that gets hauled to the dump. We can build with less than 5 percent waste."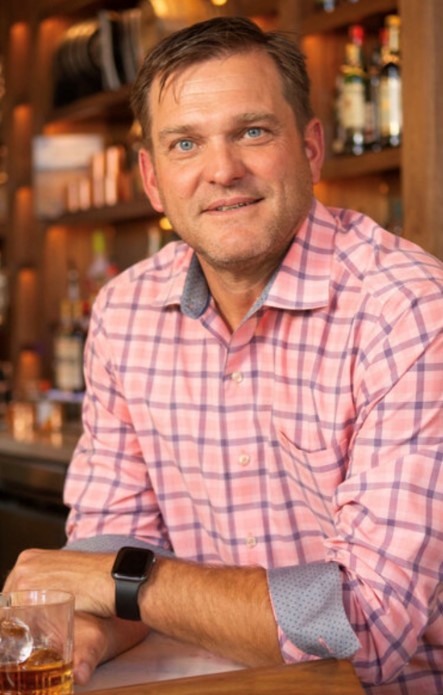 Aaron West
Here's how it works: NVO's designers get a three-dimensional model of a project, and then they break it apart on a computer so that everything becomes a component. Computer-controlled saws automatically cut each piece of wood to exact length. Pieces are labeled, and a team of framers — some of them women — assemble each piece into a truss or wall panel.
Large jigs and lasers guide the assembly process, and there's little waste since smaller pieces of wood or sheathing that normally would be considered jobsite scrap can be reused elsewhere.
Lewis said she's built several companies in the past, but her background is primarily working as a CPA, lawyer and investment analyst. It was in that last role that she was presented with a nub of an idea to prefab walls under a tent that would become NVO Construction.
"These guys came to me with an idea that I felt needed someone to create more out of it," she said. "Building walls under a tent was a great idea, but putting up that tent every time was very expensive, and it lacked scale.
"You also have to move it every time, and when you move it, equipment becomes susceptible to being broken. That's why having a facility made sense, particularly with trusses, because you can't do them right without having an established facility. I saw what was needed to take it to the next level."
With the extended building boom in Greater Reno-Sparks, there also was a need for more truss manufacturing facilities, she added. There are just three truss production facilities in Northern Nevada, Lewis said, and developers often had to bring in trusses from California or other places for their jobs.
NVO, however, is the only totally enclosed truss manufacturing facility in the region, Lewis noted.
"We can work 24 hours a day, so there are a lot of opportunities," she said. "We are not affected by weather, so we can work when no one else can."
West was a strategic hire to help usher the company into its next phase of growth. NVO also hired Jim King, a Nevada contractor with more than four decades of construction experience, to manage the company's on-site training programs. The advanced manufacturing side of NVO Construction builds trusses, floors and walls, and with King's Nevada contractors license, the company also can erect pre-assembled trusses and wall panels in the field.
Using prefab units may not be common on the West Coast, Lewis said, but it's typical in other parts of the country.
"This is proven technology," she said. "There are some areas where if you talk to the framers they expect to use prefabricated walls."
Toll Brothers, for instance, operates multiple pre-manufacturing facilities on the East Coast, Lewis said. She visited the company's largest facility in New Jersey as she ramped up her knowledge of the manufacturing process.
"They have been doing it for over 30 years, and they believe in it," Lewis said. "It's been a really good relationship because it has helped us to really hone in. (Reliance at Stonebrook) are not easy homes to build, especially the biggest ones. Some of the roofs are just crazy."
Currently, NVO builds wall panels and trusses at its facility, and it can erect the walls of a home on site in less than one day for most houses, followed by the roof package. However, NVO's executive team envisions a time when it builds entirely modular roof and floor sections and lifts them into place using a boom truck. The company would likely have to expand its manufacturing center to make that process happen, though.
"We don't have the room to do that, but one day we will," Lewis said.
The industry also is eyeing a shift to robotics to assemble walls and trusses, she added.
"It's a very big expense, and you have to have the volume for it to make sense, but that's where we are heading and that's where I want to go," Lewis said.
NVO employs roughly 55 in its plant between framers, designers, logistics and IT staff. Its headcount can jump to 85 when it's framing big projects, though.
"This is just the beginning," Lewis said. "Sustainability also is going to be huge – material waste is shameful.
"We have so much to offer, and Aaron has the vision to take it and run with it. Young minds can really make a difference. We have an opportunity to help take the industry in a different direction."